March 28, 2022
We take a look at a recent OnlineLoans' client's Toyota Fortuner GXL and the story behind it.
In brief
Client: William, Coffs Harbour, NSW
Loan type: Secured Car Loan
Purchased: March 2022
Trade In: 2009 Toyota Kluger
Coffs Harbour resident William (Will) purchased his previous vehicle through OnlineLoans and the team was delighted to see him return for his next car – a 2018 Toyota Fortuner GXL.
Will traded in his 2009 Toyota Kluger and financed the Fortuner through OnlineLoans with a rate of around 5.9%.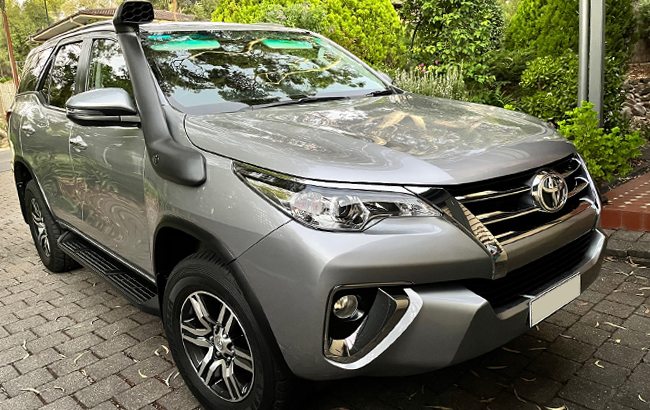 (A step up from his 2009 Toyota Kluger: Will's Fortuner)
Why a Toyota Fortuner?
"I've pretty much always had Toyotas and I was set on another one – that narrowed the choices right down," explains 39-year-old transport manager, Will.
"I actually wanted a HiLux at first because I wanted to try having a ute – never had one before. I kept looking online for a low-kays one to pop up but they were out of my price range.
"Basically, I wanted 4×4 ability."
The Toyota Fortuner comes with high and low-range 4×4 drive modes and is touted as a serious and capable off-roader. According to Will, the vehicle offers more travel opportunities.
"Since the state borders opened up, we're trying to do more road trips into Queensland and Victoria. The Kluger was ok, nice and big interior, but too limited to sealed roads, the Fortuner is the best of both worlds".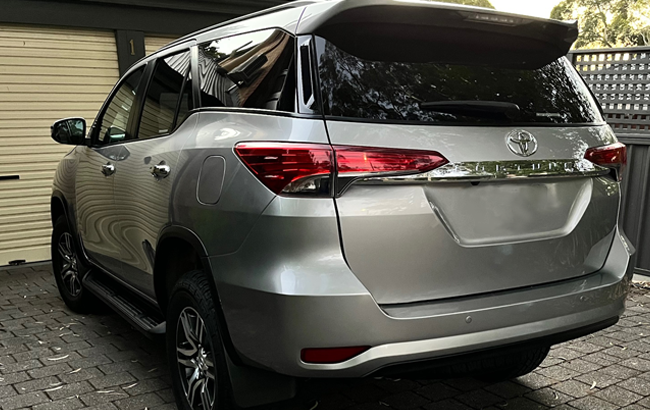 The Purchase
Will told OnlineLoans that he watched a few reviews online and didn't need much convincing.
"It was either an older HiLux or a newer Fortuner, I'm really happy with the decision.
"In a dream world, it would have been a new LandCruiser but the Fortuner is just as capable in my opinion, easier to park too because it's not as big.
"I used OnlineLoans when I bought the Kluger and found the process really easy, so coming back was a no-brainer. I was able to do it all on my phone in my own time, that's important to me."
***Some personal details have been changed at the client's request. 
Toyota Fortuner
While it launched back in 2004, the Fortuner has only been sold in Australia since 2015.
There have been two generations of the "Tuna", as it's known by enthusiasts, with the second generation (2015) being the only one sold in Australia, all of which are 4×4.
Engine
2.8L turbo diesel
2015 – 2019: 130kW 

2020+: 150kW
Models
GX (base model)
17″ alloy wheels

Side steps

8″ colour touchscreen display

Apple CarPlay and Android Auto

7 SRS airbags

Front and rear parking sensors

Reversing camera

Toyota Safety Sense (safety assist features)
GXL
Same as above, plus

Smart entry and start system

Downhill Assist Control

LED fog lamps

Satellite navigation

Digital radio

Roof rails

Privacy glass
Crusade (range topper)
Same as above, plus

18″ alloy wheels

Bi-LED headlamps

Power tailgate

8-way power adjustable front seats

Driver and front passenger heated seats

11-speaker premium audio system

Panoramic View Monitor
The above features are based on the current version of the Toyota Fortuner and differ per year of manufacture.
Pros
Extremely capable off-roader

Economic (for its size) when in Eco mode

7 seats or plenty of cargo space

Comfortable around town and when parking despite its off-road focus
Cons
Interior doesn't feel modern

4×4 and Toyota and SUV and turbo diesel means it's expensive

Only got Apple CarPlay and Android Auto in late 2020

Pay a bit more for a Prado (OR LESS: the Crusade variant is more expensive than base model Prado)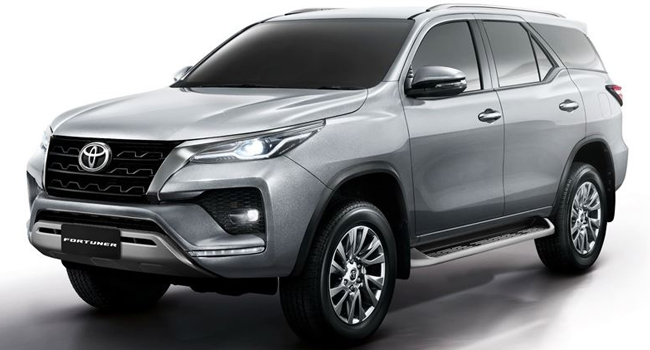 About
If you're not too familiar with the Fortuner, you're not alone. It doesn't sell in huge numbers in Australia and is overshadowed by other Toyota models like the HiLux, Prado and LandCruiser.
If you're into off-roaders, SUVs or even utes, becoming familiar with the Tuna is a must.
Toyota are experts when it comes to utes, SUVs and off-road capabilities – that's what the Fortuner is in a nutshell.
It's a ute-based SUV and is built on a version of the HiLux's platform, sharing its engine and some running gear.
The Fortuner fits into Toyota's SUV lineup between the Kluger and Prado, or answers those looking for ute driveability but still prefer an SUV.
This isn't always clear to buyers as the brand is pretty SUV heavy. Here's Toyota's current SUV list available in Australia (increasing in dollars);
Yaris Cross

C-HR

RAV4

Kluger

FORTUNER

Prado

LandCruiser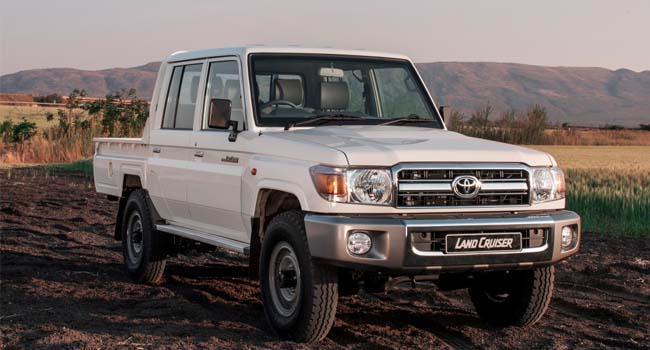 (The 70 Series LandCruiser is one of Australia's favourite work horses)
Interestingly, the Fortuner uses the same engine as the Prado and HiLux and is focused on off-road ability – again, like both of them. Sizewise, it's not much different to the Kluger either which begs a few thoughts;
If you want a ute, there's the HiLux.

If you want a mid-size SUV, there's the Kluger.

If you want a 4×4 SUV, there's the Prado (although you'll have to pay more).
Nonetheless, the Fortuner is for those in the market for a turbo diesel 4×4 SUV but don't want to pay the Prado's price.
Note that the Kluger is AWD, petrol and not an off-roader.
History
Launched in 2004, the first generation Fortuner was designed and developed in Thailand by Thai and Japanese engineers. These versions were sold in both petrol and diesel engine-spec and with RWD or 4WD but weren't offered in Australia.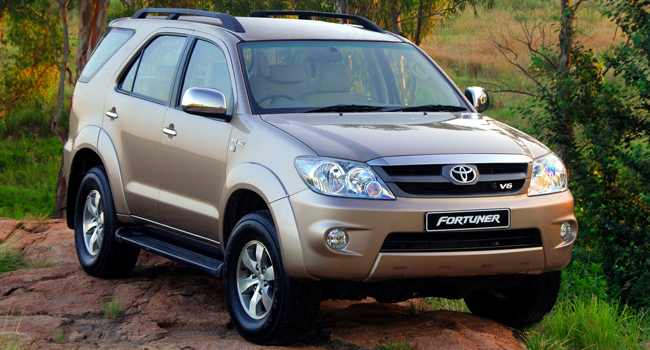 (The first-generation Fortuner was a different beast and not offered in Australia)
The second generation, launched in 2015, is much more familiar to Australians.
That's for two reasons, one being it was actually sold here (obviously) and the second, it was designed in Australia by Toyota Australia.
This generation also gets its own interior rather than sharing with the HiLux as the first generation did.
It also appears the team responsible for the name didn't exactly have their creative juices flowing. The name is derived from the word 'Fortune' simply with an "R" on the end.
In contrast, Škoda named their AWD SUV the "Kodiaq" after the bear and Alaskan town and actually had the town change its name from Kodiak to Kodiaq (with a "Q") for a day as part of Škoda's marketing campaign.
Safety and Tech
The Fortuner is loaded with gear that increases with trim level, but all current models get a 4.2″ colour information display showing fuel consumption, range and other metrics.
That's as well as the 8″ colour touchscreen in the centre for Apple CarPlay and Android Auto, navigation, entertainment and fuel consumption, range and other metrics should you wish to share that with your passengers. The Tuna also gets digital radio on the GXL and Crusade and an optional 11-speaker JBL audio system.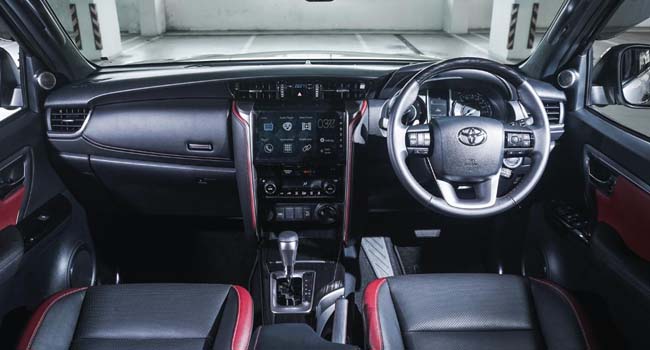 (The interior is a pretty nice place to be. Source: wapcar.my)
On the ANCAP safety front, the Fortuner gets a full 5 stars like most vehicles in its segment, with the specific figures below:
Adult Occupant Protection: 95%

Child Occupant Protection: 84%

Safety Assist: 78%
The safety suite that Toyota offers is known as Toyota Safety Sense and includes Active Cruise
Control, Pre-Collision Safety with pedestrian and daytime cyclist detection, Lane Departure Alert with steering assist and more.
Unfortunately, Toyota hasn't given the Fortuner a digital instrument cluster yet, but hopefully, we'll see that soon.
On the road
The Fortuner is not about refinement and peace (there's the RAV4 and Kluger for that) as much as it is about tough and ready.
You're reminded about the diesel on acceleration as it's clearly, but not annoyingly, audible in the cabin, however, when on a highway or at constant speed, the Fortuner is reasonably quiet for its package on the inside.
This plus the harsher suspension lets you know you're in an off-road specialist, however, the jolty bumps that some suburban roads subject drivers to can be a bit noticeable.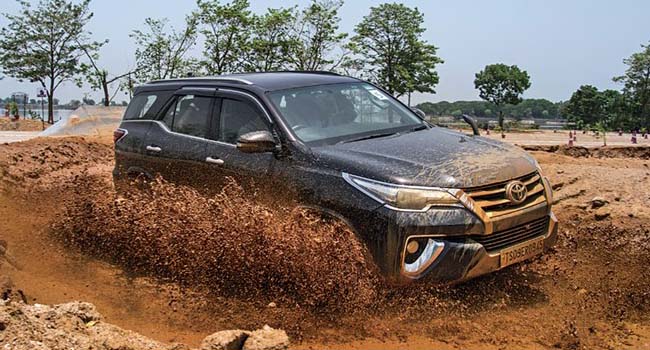 (The Tuna isn't shy off road. Source: Autocar.com)
Speaking of off-road ability, the Tuna shines. With its 216mm ground clearance (a new LandCruiser is 225mm) and selectable high and low range 4×4 modes and rear differential lock, it's easy to see what kind of buyer the vehicle is aimed at.
You'll need to slow the Tuna down to below 80km/h to throw it in high 4×4 and come to a stop for the low range.
Around town, it's actually quite easy to manoeuvre in tight parking spaces, not on par with a Yaris or VW Golf but better than some competitors.
For the 2022 model, Toyota claims 7.6L/100km (combined) of fuel consumption which is good for a big turbo diesel SUV. To get this figure, you'll have to drive pretty carefully (economically).
The good things about being inside
Great high and bolsters driving position

Middle-row passengers have their own A/C and get a surprisingly good view out the front

Easy access to third row

Kid-zone third row fine for who it's designed for
The bad things about being inside
A little too much noticeable hard plastic, eg. centre console

Third row A/C not as powerful as some other in its class

No fold flat third row means these seats fold up to the sides, robbing space and a little visibility
Looks
Modern Toyota SUVs are arguably good looking vehicles – sleek and "keen" (but not too aggressive) front headlights and no overly large front grilles, although some are getting close.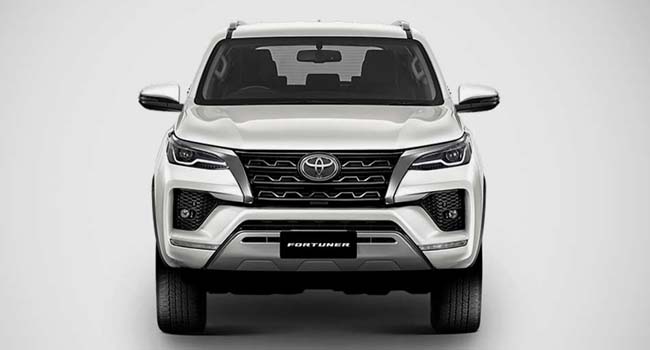 The Fortuner fits into the line up with these traits and distinguishes itself from other vehicles it's closely related to.
The Tuna might share its platform with the HiLux and the ride height and ground clearance appear similar when side by side but it stops there. The SUV shape coupled with its distinctive kink in the rear third of the beltline keep it both on par with its segment and recognisable.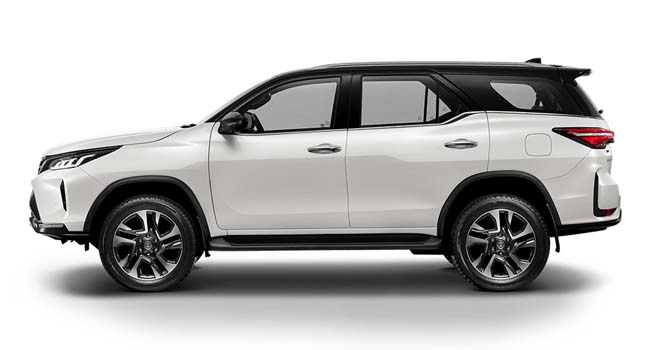 On par because the Fortuner has a high ride height, giving it the impression of off-road ability, but not too much of a short front overhang which keeps it away from the real rough 'n' tumble off-roaders like the Jeep Gladiator.
In other words, you get the impression that although it can handle a few creek beds on weekends, you won't look out of place driving it to the office on Monday – just give it a wash.
In 2021 the front end got a facelift which simplified and modernised the look as the old front was pretty busy. The new design also has body-coloured fog light surrounds which look a little less tacky than the plastic chrome on the non-face lifted versions.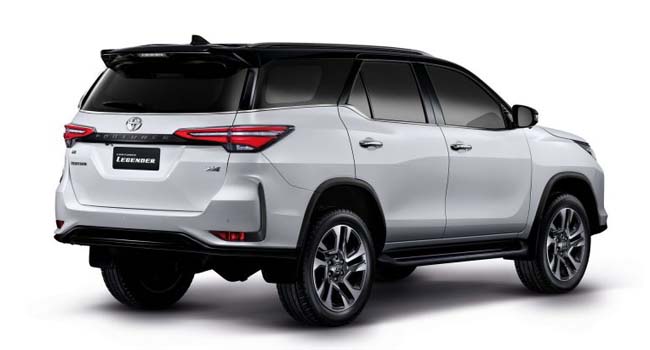 All in all, it's hard to argue against the Fortuner's looks.
Get into a Toyota Fortuner
Even if you're new to off-roading, getting into something like a Fortuner can really open up your family's ability to explore some of Australia's most spectacular places.
OnlineLoans offers a fast and seamless finance process which lets you start, stop, pause and continue at your own pace.
Start with a quick quote to get the ball rolling or, if you're still crunching the numbers, our calculator can offer instant answers.
Researching vehicles?
Comparing cars is a huge help. Check out some other recent OnlineLoans clients' vehicles;