February 22, 2022
To have the best off-road adventure, check out these tips designed to take the concern out of off-roading for those new to the scene.
More and more vehicles are coming out with AWD and 4WD systems as standard which means more adventures.
Here's all you need to know to enjoy some of the best off-road adventures for newbies on your weekends.
Get the gist in 30 seconds
4×4 = all wheels always turn, AWD = vehicles alternates between 2 and 4-wheel drive

AT (All Terrain) tyres are a good choice and airing them down when on tough terrain gives you extra traction

It's always a good idea to avoid driving off-road at night (and setting up tents at night)

It pays dividends to know your vehicle's abilities and limits and test them out before going off-road

There's a huge range of vehicles available that tick the boxes for the some of the best off-road adventures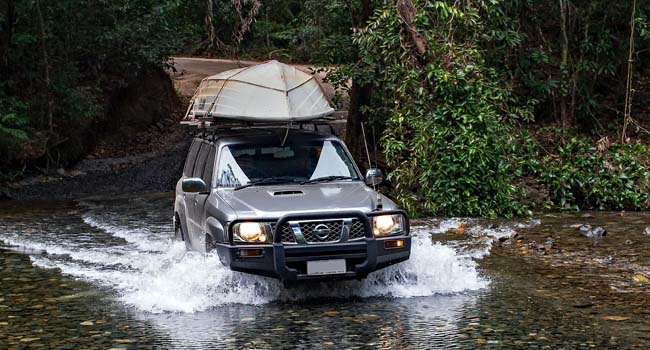 Firstly, what do the acronyms mean?
4×4 and 4WD: Generally, they are the same. People use the terms interchangeably. Put simply, it means all four wheels have power turning them. If you lifted the vehicle off the ground, on a hoist for example, you'd see all four wheels turning. These vehicles typically provide the best off-road ability and often have two options regarding their 4×4 drivetrains:
High-range: for terrain where you might need more traction than a paved road like firm sand, gravel roads or some grass.

Low-range: for the tough stuff like soft sand, deep mud or snow.
Modern cars allow the driver to select the drive mode (eg. snow, gravel, sand) on the fly making things really easy.
AWD (All Wheel Drive): The car can alternate between two-wheel power and four-wheel power when needed. For example, if the car's computer systems sense poor traction, like in wet weather or mud. These systems can power two wheels in dry conditions, saving fuel. Other than slippery conditions, AWD systems can help high-performance cars achieve better handling around a race track too.
Depending on the vehicle, most AWD cars are designed for use on sealed roads with some light-duty off-road use.
FWD (Front Wheel Drive): Only the two front wheels have power to them. Since the engine and components that drive the wheels are all in the front, the cabin space can be a little larger. These cars aren't designed for off-roading.
RWD (Rear Wheel Drive): The rear wheels have power. The front wheels carry the engine weight and do the steering and the rear wheels drive the car which means more even tyre wear. These cars aren't designed for off-roading.
Tyres
"AT tyres aim to offer comfortable daily use on sealed roads with a little off-roading on the weekends."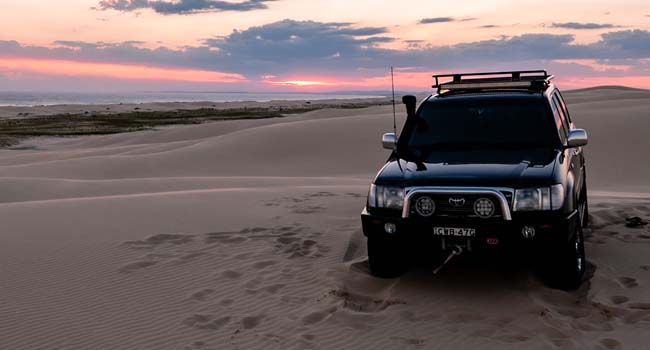 Tyres are always a focus point for people looking for the best off-road options and while it's hard to find a one-size-fits-all package, there are great solutions.
Keep in mind
Using off-road tyres on sealed roads (like your weekday work commute) can cause considerable road noise and reduced confort. Pockets of air get caught in the deep grooves on asphalt which makes them noisy.
On the other hand, using a road tyre on rough terrain can be dangerous as they have less grip and can puncture more easily.
For the weekend off-roader
For those of us who mostly stick to sealed roads and highways but want a little bit of off-road ability, an AT tyre is recommended.
AT = All Terrain
AT tyres aim to offer comfortable daily use on sealed roads with a little off-roading on the weekends. 
When to air down tyres
Airing down tyres means letting a little bit of air out to increase the surface area of the part of the tyre that touches the ground.
With less air, the tyres are softer and can adapt to the harsher conditions.
Ideally, you'll keep your tyres inflated to the manufacturer's recommended level when on sealed roads and deflate the tyres by around 5 to a maximum of 10 psi when off road.
Note that gravel roads are generally not considered off-road.
The best off-road methods dictate releasing around 5 psi per tire on dirt or sand and up to 10 psi on tough rocky terrain. However, talk to your tyre retailer about the best option for your vehicle and tyres as it varies per make and model, and terrain and tyre.
DYR and avoid arriving at night
"4×4 groups on social media are a great resource too."
Do Your Research. Knowing what you're up for before embarking on an adventure is a huge benefit you can give yourself and your passengers.
Read reviews from people who have done the trip before and check out any images online to get an idea of what the roads look like as well as the accommodation.
A great idea is to plan your drive time on Google Maps to ensure you won't be arriving anywhere in the dark. Trying to negotiate a rough road and then set up a tent in the dark is not a pleasant experience.
4×4 groups on social media are a great resource too.
Note that many national parks require visitors to pay a fee online prior to arrival – take only photos, leave only footprints.
Know your vehicle limits
Even if it means a Saturday morning visit to a tyre centre and your vehicle's manufacturer, getting the facts from those in the know can really help.
Otherwise, some internet sleuthing on your vehicle's abilities is a good option. Just make sure you're checking the exact make, model and variant matched to your vehicle.
You'll want to know things like
The vehicle's ability on certain terrains like sand or mud

Possibly you car's wading depth if you plan to go through deep water

How to change a tyre on uneven terrain
If you've done your research and found out your vehicle's abilities, you'll dramatically reduce the chance of scratches, scrapes and damage some off-roading can cause.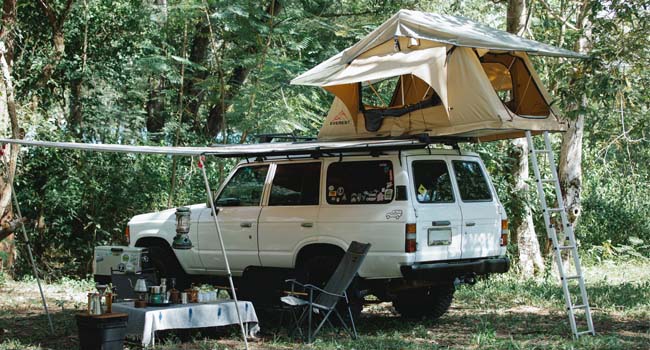 Equipment
Unless you're planning to go really hard, things like winches and lift kits are probably a little extreme.
Other than the basics like plenty of water, food and camping equipment, make sure to take some basic tools and ensure your spare tyre is operational.
Basic tools could include a shovel, hammer, screw driver set, socket set and cutting tools. These can come in handy outdoors.
If you're interested, here are some of the best off-road equipment and modifications
Lift kit: off-road suspension that gives the vehicle more ride height

Winch: using a mounting plate and cable, these can get you out of a ditch or thick mud

Lighting: additional front headlights for night driving on roads without street lights

Skid plates: attached to the underside of a vehicle, these plates help protect from scratches and damage on rough terrain
Get familiar with your vehicle
If you already have a vehicle with AWD or 4×4 capability, do a bit of practice and familiarise yourself with its features.
A great idea is to select somewhere close to home and not too extreme, for example, a quiet country road with some windy or slightly steep gravel sections.
Give the owner's manual a check before heading out and get a feel for what the car's able to do and why. Below are a few common functions explained:
DAC (Downhill Assist Control)
Controls a safe rate of descent, usually without minimal driver intervention. Maintains speed and control on loose surfaces when going downhill.
Terrain selection
Typically a dial that allows the driver to select from a number of terrain types, eg. snow, sand, rocks. The vehicle configures itself accordingly.
4L
Engages all 4 wheels in low range. This is for heavy sand, thick mud or really tough terrain.
4H
Engages all 4 wheels in high range. For higher speeds (but not too fast) than 4L where you might need more traction, eg icy roads, gravel or heavy rain. 
2H
Two-wheel drive mode. Usually engages only the two rear wheels and is for normal road driving.
TCS (Traction Control System)
Engine power and sometimes braking are matched to the surface of the road and adjusted accordingly for maximum traction.
A new vehicle
Turning off the main highways and out into the wilderness with friends, family and your favourite drinks in search of those Instagram-perfect views isn't something for all cars.
If your current vehicle isn't offering you the lifestyle you want, it might be time for an upgrade – which is easier than most people think.
Popular vehicles that are up to the task include;
Jeep Wrangler

Nissan Navara (4×4 version)

Nissan Patrol

Mitsubishi Triton (4×4 version)
That's only a few of a huge range of options out there that can make your weekends memorable and weekdays safe and comfortable.
Grab a quick quote or check the numbers with our loan calculator to get started.