June 17, 2021
We take a look at recent OnlineLoans' clients, Dan and Naomi's 2020 Toyota RAV4 GX Hybrid AWD and the story behind it.
In brief:
Clients: Dan and Naomi, Brisbane, QLD
Loan type: Secured Car Loan
Purchased: June 2021
Trade In: 2013 Subaru Forester
Brisbane residents, Dan and Naomi, purchased their 2020 Toyota RAV4 in June 2021. The young couple were previously sharing a 2013 Subaru Forester, which they liked, but found it no longer met their requirements. The RAV4 fit the bill. Dan and Naomi financed their Toyota RAV4 through OnlineLoans with a rate of around 5.8%.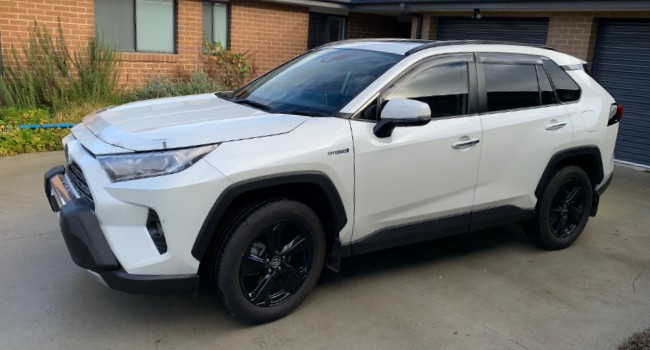 (A smooth transition into a smooth ride: Dan and Naomi's 2020 Toyota RAV4)
Why a RAV4?
As 32-year-old project leader, Dan, explains, "A guy I work with bought one [RAV4] about six months ago. I thought it was awesome, really high-level build quality and such a nice interior. Naomi wasn't sold on the idea of a new car, but when we took a RAV4 for a test drive, she was. The [Subaru] Forester was a great car for going to and from work and carrying cargo around town, but not for long distance trips."
30-year-old dental assistant, Naomi, now clearly backs the decision, "I have family down in Sydney and often go to visit them, [and] it's like a full day of driving. I think the Toyota will be much nicer for the trip, I can't wait to take it down there to show them."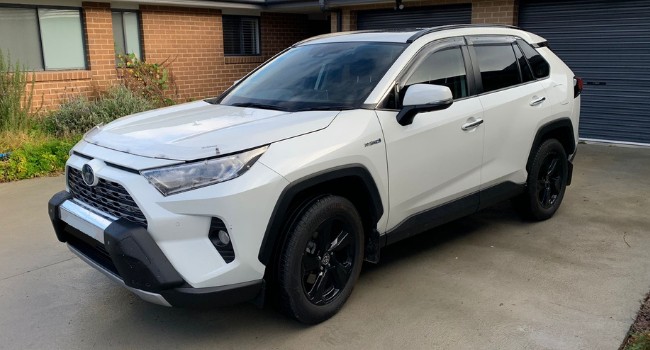 (Primed for a few country kays)
The Purchase
The couple told OnlineLoans that they considered many factors before financing a new car.
"I came to the conclusion that, for us, financing a car is much better than paying cash. Instead of saving money and putting it in something that depreciates in value, we can make our savings work and grow," says Naomi.
She continues, "I'm confident that we'll be able to increase our savings while repaying the finance on the RAV4. Also, we plan to start a family soon and this car has all the modern safety [features]."
Dan chimes in on the purchase too.
"Your [OnlineLoans] process was good because it was so clear and easy and we were able to do it in our own time, at our own pace – I don't like rushing into these things or being pressured. OnlineLoans worked well."
"Naomi and I like to explore every opportunity and do all the research slowly and carefully. I think allowing us to do that was a big tick for OnlineLoans."
"At the end of the day, we have our savings and a nice new car. We're pretty happy with that, so thanks!," adds Naomi.
Some details have been changed/omitted at clients' request.
Toyota RAV4
The RAV4 was Australia's best-selling SUV in 2020. Its manufacturer also deserves a shoutout. One in five new cars sold in 2020 was a Toyota – the brand had a mega 22.3% market share last year.
Further mind-boggling Toyota stats in Australia
20.4% of all SUV sales in 2020 wear a Toyota badge

32.1% of light commercials sales in 2020 wear a Toyota badge

89.9% of all hybrid sales in 2020 wear a Toyota badge
But back to the current model RAV4.
Engines
Petrol
2.0-litre
2.5-litre
Hybrid
2.5-litre + 88kW electric motor
Models
GX (base model) – available in FWD and AWD
GXL – available in FWD and AWD
Cruiser – available in FWD and AWD
Edge (top trim level) – AWD only
All trim levels come with Apple CarPlay and Android Auto and Toyota's acclaimed safety suite, known as Toyota Safety Sense. Higher trim levels include additional paint and interior colour schemes/materials, driver assist tech, power tailgate and tilt/slide moonroof.
Pros
Excellent fuel economy (from 4.7L / 100km)

Superb build quality and comfort for its price

Even the base model includes a solid array of tech and features

Quiet and well-planted ride
Cons
Exterior styling looks good but outdated compared to some similarly-priced competitors

Huge popularity means high prices, even for used examples

Lower ground clearance than other SUVs might cause problems for some drivers
About
"the RAV4 was one of the world's first compact crossover SUVs"
RAV4 actually does stand for something, originally it was "Recreational Activity Vehicle: 4-wheel drive", despite not all models being AWD. Today, RAV4 stands for "Robust Accurate Vehicle: 4-wheel drive".
Launched back in 1994, the RAV4 was one of the world's first compact crossover SUVs – a significant title to hold considering the crossover SUV's popularity today.
A compact crossover SUV, also known as a 'C-segment' or C-SUV' is typically an SUV built on a small-car chassis. Other examples include the Honda CR-V.
But 'small-car' might not apply to the RAV4 anymore.
"In other words, the RAV4 has grown by 23% in length"
Upon release back in 1994, the XA10 series RAV4 was originally a 3-door vehicle (two passenger doors and a rear door), although a 5-door version soon followed. The 3-door RAV4 is 3,740mm in length. Today's RAV4, like Dan and Naomi's example, stretches to 4,600mm.
In other words, the RAV4 has grown by 23% in length, proving that cars are getting bigger.
The RAV4 evolution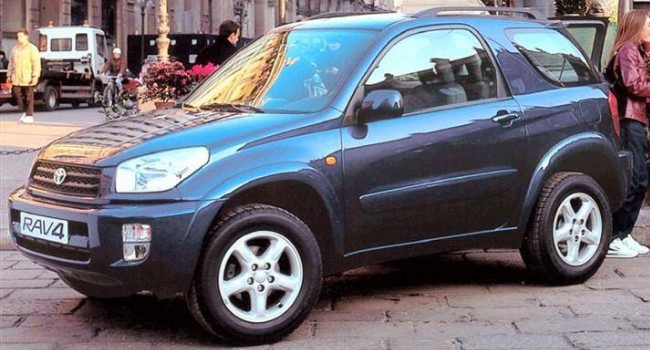 (A 1994 Toyota RAV4)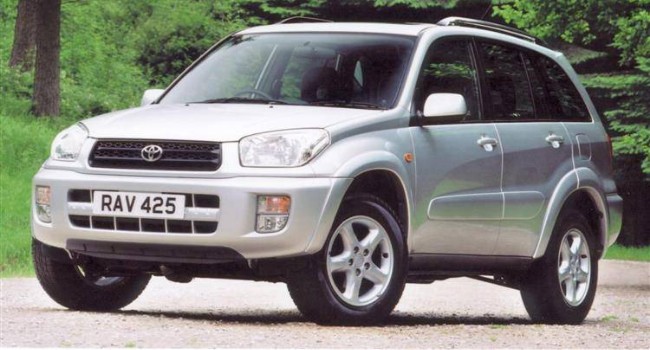 (Second generation, 2000 – 2005)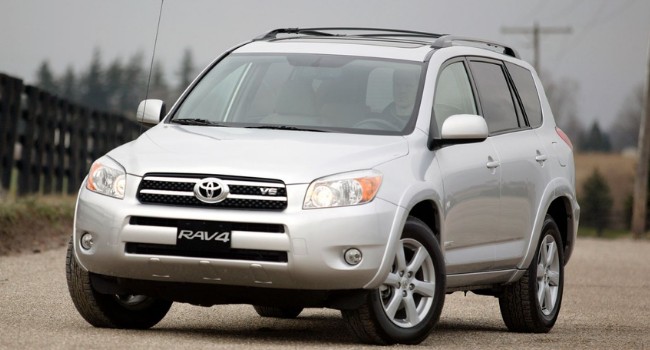 (Third generation, 2005 – 2012)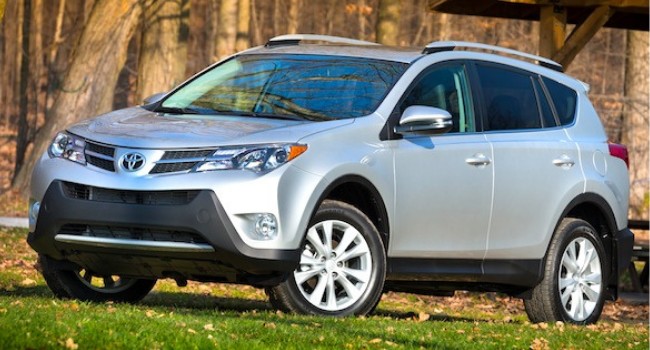 (Fourth generation, 2012 – 2018)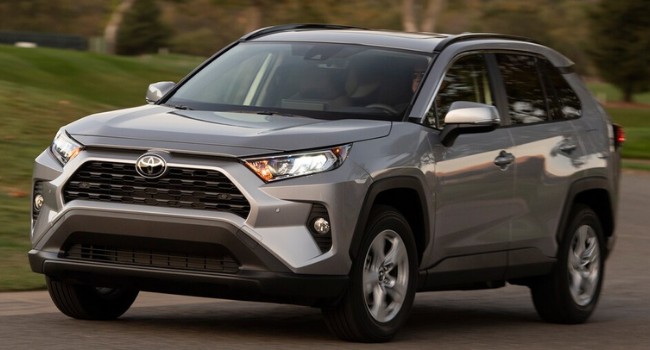 (Current generation, 2018 – present)
Today's RAV4 has received praise from critics for being superbly built and fit for purpose within its target demographic and price point. Judging from Toyota's marketing imagery, the RAV4 is aimed at tech-savvy drivers with a somewhat outdoorsy lifestyle. You won't see it tackling creek beds or scaling mountains, but you will see it on suburban highways, grass and gravel roads with rural backdrops. 
Predictably, the RAV4 is an excellent option for city-and-suburb dwellers who like weekends away. 
Safety and Tech
As mentioned, all current model RAV4s come with Toyota Safety Sense. The suite includes a pre-collision system with pedestrian and cyclist detection, lane departure alert/assist and road sign assist, among others. Road Sign Assist (RSA) identifies certain speed limit signs and informs the driver.
Adding to Toyota's premium build quality delivered in the RAV4, higher trim level options come with 9-speaker JBL premium audio with DAB+ Digital Audio. Lower-spec models are equipped with 6-speaker audio with DAB+ Digital Audio.
Note that both options sound great to any non-musician, but if you really love your beats while driving, the 9-speaker option delivers exceptional audio quality.
Despite the many brags of being a RAV4 owner, the infotainment screen might not be one of them. The screen measures 8 inches which aren't large for a vehicle of such praise and quality. The Mercedes GLA comes with a 10.25-inch screen as does the BMW X1.
On the road
If you were on the roads in the 2000s, you'll remember the older RAV4s, mainly the second generation (pictured above). These cars were an all-too-common sight in Australia, often a P-plater or student favourite, complete with car park scars and battle wounds. 
The current model RAV4 shares very little with its predecessor. Quiet with a solid and safe feel to the driver and passengers, the 2018-present RAV4 continuously reminds owners of being a 'new car'. This is mainly thanks to the instantaneous acceleration, especially in the hybrid, and responsive and 'nimble' steering, despite its large size. Its comfort is much appreciated on longer drives.
The spacious interior and seemingly wide rear window also make the RAV4 easy to drive by adding to excellent visibility. 
Note that due to high resale value and the vehicle's popularity, most examples on the road are kept in good condition, giving the RAV4 more of a high-end aura compared to previous generations.
Fuel-price conscious drivers will also appreciate the RAV4. Toyota quotes 4.7L per 100km for the 2021 model year. Of course, that's optimistic but even with passengers and some hills or city driving, the hybrid doesn't go much past around 6.3 – 6.5L per 100km. 
Looks
Interestingly, the RAV4 shares its build platform with the Camry, Avalon, Lexus ES and even the Kluger. Put simply, a vehicle platform means sharing some dimensions, components and under-body designs – the exterior and cabin interior are very different, however.
Unlike the Camry, which has taken on a more sleek appearance from the front, the RAV4 has an aggressive or 'keen' look. This is especially evident in the headlights and front grille design and backed up by the sharper angles in the rear and tail lights. 
Most motorists would know the 'aggressive' look which was hugely popular in the 2010s. BMW and Subaru models, among many others, are especially known for taking on the look.
Today, however, many manufacturers are moving away from this in favour of sleeker and more 'futuristic' designs. Similarly sized SUVs like the Hyundai Kona, Kia Seltos and Nissan X-Trail are examples of this with their thin headlights and smooth grilles.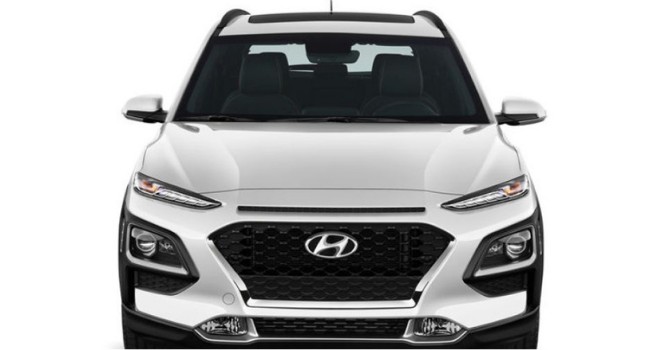 (Hyundai Kona front design)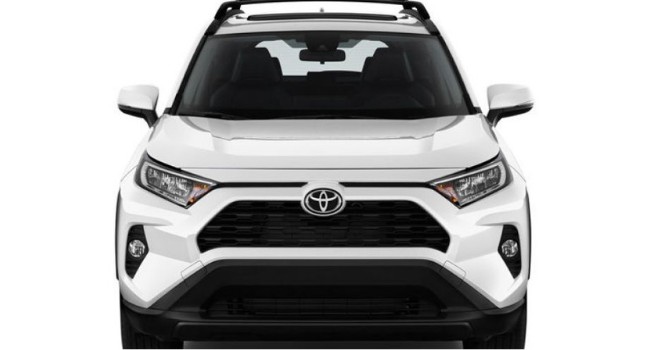 (Toyota RAV4 front design)
Paint schemes are a win for RAV4 owners. Known as 'Eclectic Blue' in brochures or 'light blue' in a school kid's pencil case, the colour really highlights the RAV4's angles. Drivers of these coloured examples won't struggle standing out.
If subtlety is more your thing, the Edge, the top-trim variant, also offers 'Jungle Khaki' which appears as a turquoise-grey and again, looks good on the RAV4. Other variants also offer 'Luna Rock'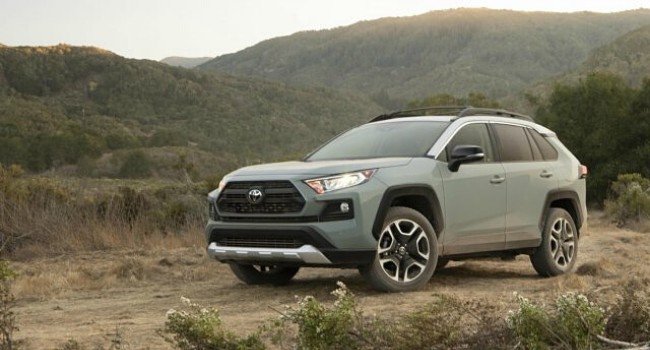 (The RAV4 in 'Jungle Khaki' uniform. Source: toyota.com)
Get into a Toyota RAV4
OnlineLoans offers a fast and seamless process. As recent clients, Dan and Naomi, mentioned, OnlineLoans lets you take things at your own pace. This means whether you need a car ASAP or are just testing the water and looking at options, you're covered.
Start with a quick quote to get the ball rolling.
If you're researching vehicles, comparing other recent client purchases might help. 
Mazda CX-8
Land Rover Range Rover Velar
Ford Ranger
Other Q&A that might be useful: