March 1, 2021
We take a look at a recent OnlineLoans' client's Toyota Kluger and the story behind it.
In brief
Client: William, Coffs Harbour, NSW
Loan type: Secured Car Loan
Purchased: Feb 2021
Trade In: 2010 Toyota RAV4
Coffs Harbour (NSW) resident William (aka Will) purchased his Kluger Grande in late February 2021. Will traded in his 2010 Toyota RAV4 And financed his Kluger through OnlineLoans with a rate of less than 7%.
(A new home for Will's Kluger)
Why a Toyota Kluger?
"I've had Toyota SUVs for years, and regional New South Wales is pretty much 'Toyota country' which makes servicing easy" Explains 38-year-old transport manager, Will.
"I have two kids and with all their bikes and sports gear, the extra room in the back comes in handy. It's AWD too so that makes camping more doable and being a Grande, the interior is really nice – we just have to keep it that way" He adds.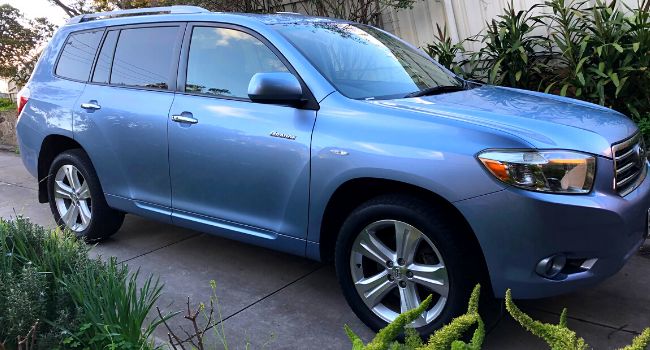 The Purchase
Will told OnlineLoans that he'd seen a few Klugers on the road and, after a little research, decided on one.
"I had considered a [Toyota] LandCruiser but a mate from work has a Kluger and loves it. I found a few for sale at dealers in Newcastle and [Port] Macquarie then had a look online at finance. I found OnlineLoans while searching on Google, got a quote and completed the application."
"A few days later, I settled on one [Kluger] in Newcastle – a bit of a hike but worth it. The OnlineLoans process worked for me because I could do it all in my own time and at my own pace." Says Will.
After some back and forth with a car dealer, Will made the 4-hour trip south from Coffs Harbour to Newcastle and got the keys to his new car.
***Some personal details have been changed at the client's request.
Toyota Kluger
3.5-litre V6 petrol, automatic
FWD and AWD versions
Models
2007 – 2013
KX-S (FWD and AWD)
KX-R (FWD and AWD)
Grande (FWD and AWD)
2014 – 2019 
GX (FWD and AWD)
GXL (FWD and AWD)
Grande (FWD and AWD)
Black Edition (FWD and AWD)
2020 – Present
GX (FWD and AWD)
GXL (FWD and AWD)
Grande (FWD and AWD)
Black Edition (FWD and AWD)
Pros:
Great family chariot
Quiet interior
Excellent resale ability
Delivers a ride quality equal to vehicles above its price point
Cons:
Can be thirsty in stop-start or aggressive driving conditions
Heavy steering at low speeds on some models
Not designed for tight parking
About
Known internationally as the 'Highlander', the Kluger has been produced since 2000. In Japan and Australia, the name 'Highlander' is a trademarked Hyundai Terracan trim variant so Toyota opted for the 'Kluger' name which is German for 'smart'.
The Kluger is a 5-door SUV popular with families due to its roomy 7-seat configuration. AWD options along with its powerful and reliable V6 also give towing and some off-road ability.
The Grade and Black Edition models are the range-topping models and feature larger screens (8 inches) and other luxury additions.
Safety
Safety-wise, Toyota knows its customers. The Kluger features seven airbags which include the 7th row. Depending on the year and model, Toyota has also fitted its Pre-Collision Safety system with radar-based autonomous emergency braking and lane-keep assist among others. The Kluger has a 5-star ANCAP rating.
On the Road
With its planted feel on the road and modern interior, drivers and passengers won't be complaining about comfort. The quieter feel, especially in the Grande and Black Edition, plus the multiple charge ports and storage bins make the Kluger a family road trip and daily commute favourite.
Due to its large and heavy stature, the Kluger feels more at home on main roads, highways and sealed country roads rather than zig-zagging in backstreets or mountain roads.
For Toyota SUV fans who want more off-road ability, the LandCruiser might be a better option and for those who stick to city streets with tight parking, the RAV4 is a good choice.
Looks
The side profile of the Kluger is a quintessential suburban SUV. This is mainly thanks to the high headlight position and tailgate design. With its shorter overhang past the front wheels and wide stance, the Kluger gives the impression of off-road ability and high ground clearance too.
2014-onwards Klugers feature a more aggressive headlight and front grille design and have LED running lights. The Black Edition's black wheels add to its 'aggression' and look great.
Get Into a Kluger
Apply for a car loan with OnlineLoans and find the best rates today! Start with a quick quote to see what your rates and repayments look like before deciding on a finance option tailored to your needs.
The team at OnlineLoans know there are many things to consider before getting a car loan and are here to help.
More information about Toyota Klugers
Other Q&A that might be useful