March 23, 2021
We take a look at recent OnlineLoan's client, Kevin's Land Rover Range Rover Velar and the story behind it.
In brief:
Client: Kevin, Sydney NSW
Loan type: Secured Car Loan
Purchased: Feb 2021
Trade In: 2014 Audi Q5
Sydney resident Kevin, purchased his 2018 Land Rover Range Rover Velar in February 2021. Favouring luxury SUVs, he upgraded from his previous Audi Q5 to a Range Rover Velar through tailored financing offered by OnlineLoans with a rate of around 4.2%.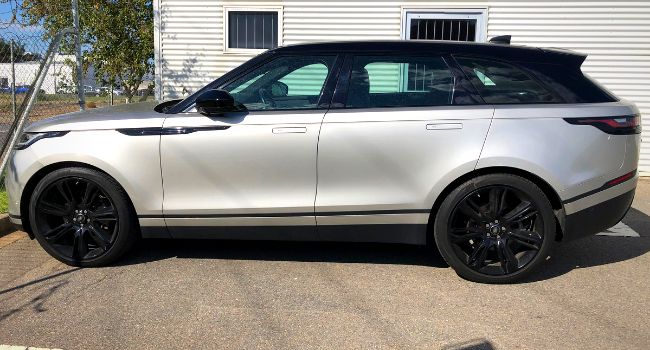 (Kevin's Range Rover Velar. Photos provided by the client upon delivery)
Why a Land Rover Range Rover Velar?
"The Q5 was becoming less and less of a pleasure to drive. I wasn't a fan of its general feel and being a 2014 model, the features were too outdated. I'd wanted a Land Rover for a while, in fact, I had a [Land Rover] Discovery prior to the Q5". Says 29-year-old Financial Analyst, Kevin.
He continues, "We recently moved offices and our new premises have under-cover parking. I wanted to wait for that until buying".
"Living and working in the city centre means I need something comfortable and quiet and easy to park, the Velar has all that. It's not too big and cumbersome for Sydney and I quit public transport after uni". Adds Kevin.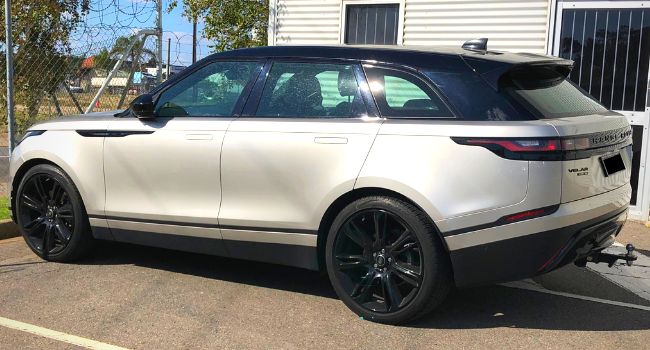 The Purchase
Kevin told OnlineLoans that the Velar was an easy choice
"I read up on the new features. The parking sensors and cameras are important for my lifestyle, as is the sound system". Explains Kevin.
"A neighbour of mine has a similar model, I like the look of it. I took one for a test drive to see how quiet the interior was [because] I have a lot of calls on the drive to work. So, clear audio and decent hands-free connectivity also made the Velar a good choice".
Kevin proclaims, "I can't have salespeople calling me during the day, unless at very specific times, so OnlineLoans worked for me. Doing the application on the fly without calls or inboxes full of ads was another benefit".
***Some details have been changed/omitted at the client's request.
Land Rover Range Rover Velar
The long name is often shortened to 'Range Rover Velar', dropping the 'Land Rover' part. Range Rover is a 4×4 series produced by Land Rover, the Velar is part of the extended Range Rover line up.
The Velar's Range Rover lineage has an interesting history. Prior to the line's launch in 1969, some prototypes were called the 'Road Rover'. During a brief four-year period from 1979 to 1983, Range Rovers were assembled in Australia in NSW.
Engines
Petrol
2.0L Turbocharged
2.0L Twin-Turbocharged
3.0L Supercharged V6
5.0L Supercharged V8
Diesel
2.0L Turbo-diesel
2.0L Twin-Turbo diesel
3.0L Twin-Turbo diesel
Models
Velar S
Velar R-DYNAMIC SE
Velar R-DYNAMIC HSE
Velar SVAutobiography DYNAMIC EDITION (5.0L Supercharged V8)
Note that depending on the year and engine specification, the Velar has additional models.
Pros:
Stylish, modern, stunning design

Premium build quality shows in drive/ride quality

Excellent driver-assist technology

Larger interior space than it may appear
Cons:
Optioning up can command huge price increases

Some engine options get thirsty

Somewhat complicated model range/features
About
"Velar enthusiasts can, in part, thank the British government."
The Velar falls into the 'compact luxury crossover SUV' category of vehicles. Judging by the majority of Land Rover's advertising imagery, the Velar is aimed at clientele like Kevin – urban/suburban living with some weekend getaways in mind. The large alloys, up to 20 inches on some trim levels, also bolster this.
Velar enthusiasts can, in part, thank the British government. In 2009, Land Rover received a £27 million (A$48.5m) grant to develop an all-new vehicle under the condition it would be assembled in the UK. The all-new vehicle that Land Rover developed was the Evoque.
The Velar and Evoque come from the same Range Rover family, noticeable when comparing models.
The Range Rover Velar is produced in Solihull, near Birmingham in England.
Safety and Tech
The first generation Velar has a 5-star rating. In 'Adult Occupant Protection', it scores a high 93%.
Safety features include:

ESC
Lane Keep Assist
Driver Attention Detection
AEB (Auto-Emergency Braking)
Parking sensors
Torque vectoring by braking (which controls stability by transferring torque to specific wheels)
The options, like most luxury vehicles, can get astronomical. In fact, you can add more than $50,000 in extras to the Velar.
Make sure to check exact examples of the Range Rover Velar when in the market as driver-assist features differ per model year, trim level and options selected at the dealership.
Other safety tech includes; Android Auto / Apple CarPlay, 3D Surround Camera, Hill Launch Assist, Gradient Release Control, Clear Exit Monitor, Adaptive Cruise Control, Rear Collision Monitor and Rear Traffic Monitor and Traffic Sign Recognition and Adaptive Speed Limiter.
As evident, Velar's tech is not lacking.
Later Velar models have a digital gauge cluster and two screens in the center dashboard. For those not familiar with such a hi-tech car, selecting options and tweaking settings on different screens may take a bit of getting used to.
On the Road
The Range Rover Velar is one of those vehicles that make you look forward to daily commutes. The Velar's plush, the quiet interior turns traffic into a positive. Keeping with the premium feel, Land Rover has kept cheap plastics to a minimum, although they're there if you go searching.
"we're guessing most owners won't be taking it through creeks."
The 2.0L turbo (184 kW / 247 hp) model, which is the base model spec, gives the Velar a surprising punch even when laden with heavy colleagues.
Without passengers, the rear seats fold down giving 1,811 litres of cargo space and 748 litres with the seats up. Note that the rear cargo floor is quite high so lifting heavy items may be an issue.
The Velar proves itself 'good, not great' as a city dweller with its turning circle of 12 metres. Despite this and the aforementioned big wheels and advertising imagery, the off-road capability might be a hidden gem for some owners.
The Velar has a high ground clearance for its class (214 in standard configuration and 251mm in off-road mode) and Land Rover even claims a 530/580mm wading depth, again depending on the configuration. However, we're guessing most owners won't be taking it through the creeks.
Furthermore, the Velar comes with Land Rover's array of terrain modes. These use the active rear locking differential, intelligent all-wheel drive and optional air suspension which maximises traction in different conditions. It alters suspension and power settings with the help of electronic stability control, roll stability control, traction control and hill-descent control.
Looks
The Velar fills a size gap in the Range Rover lineup. It's bigger than the Evoque but smaller than the Range Rover Sport.
"Known Land Rover fan, ex-Spice Girl Victoria Beckham is reported to have played a (small) role in some of the Range Rover Evoque's design…"
In most people's opinion, the Velar is stunning. The standout features are the front headlight design and tapering roof design.
The headlights and grille tie 'modern-aggressive' with 'luxury' thanks to the relatively small intakes and slim headlights. Even with the LED running lights, the Velar doesn't fall back to the 2000s 'busy/complicated' look that some other luxury SUVs, including Range Rovers, portray.
Keeping the Velar sleek are the hidden or 'flush' door handles. If parked near other cars, these are especially noticeable (or not noticeable as they aim). When locked or in motion, the Velar's door handles sit flush with the exterior surface, popping out when needed.
Especially noticeable in white or lighter colours from a side view, the slightly rear-rising window line and falling roofline give the Velar a sleek, angular look. The large rear overhang and short, stubby front overhang also add to the look.
With the black window pillars, it's easy to vary and tweak the looks per colour scheme.
These looks are a trait in the modern Range Rover lineup. Known Land Rover fan, ex-Spice Girl Victoria Beckham is reported to have played a (small) role in some of the Range Rover Evoque's design, or at least some editions. When big names like that are in the midst, it can be safely assumed the Evoque, Velar and entire Range Rover lineup score high in the looks department.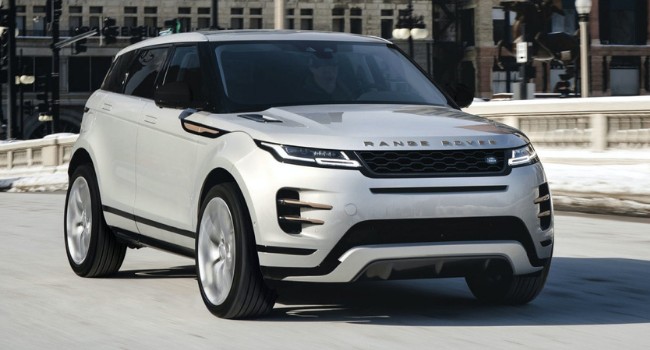 (With a Spice Girl tick of approval: The Range Rover Evoke)
Range Rover Controversy
If imitation is the most sincere form of flattery, Land Rover isn't flattered. In 2014, Chinese automotive company Landwind launched their Landwind X7 vehicle which had many similarities to the Evoque.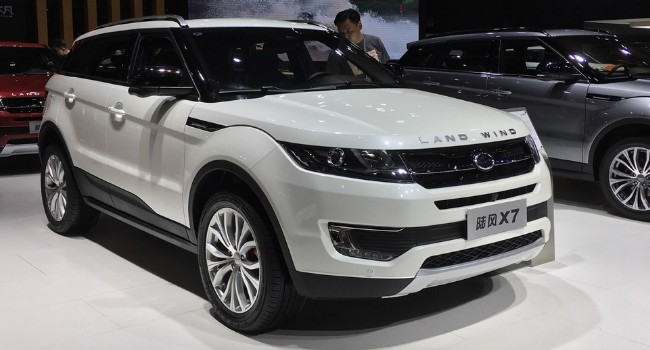 (Without a tick of approval: The Landwind X7)
In 2019, after years of legal proceedings, Chinese courts ordered Landwind to cease production and sales immediately, in addition to paying Jaguar Land Rover compensation.
Get into a Range Rover Velar
Apply now to see what your rates and repayments look like. OnlineLoans offers no-fuss of finance options, allowing you to compare and consider prior to committing.
If comparing vehicles, another recent client's Toyota Kluger might help.
More information on the Range Rover Velar and similar vehicles
Some other OnlineLoans client vehicle purchases