January 13, 2021
We take a look at recent OnlineLoan's client, Alicia's (surprise) Mazda CX-8 GT and the story behind it.
In brief:
Client: Alicia, Melbourne, VIC
Loan type: Secured Car Loan
Purchased: Jan 2021
Trade In: Holden Barina
Melbourne (VIC) resident Alicia was gifted her 2020 Mazda CX-8 in January 2021. Until recently, Alicia commuted in a Holden Barina. As she pointed out, the Barina was no longer cutting the mustard. Alicia's husband financed her Mazda CX-8 via OnlineLoans at a rate of around 5.9%.
The OnlineLoans team was thrilled to make the surprise happen.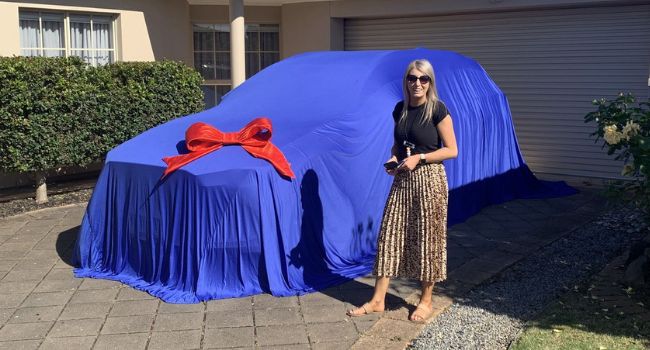 (Surprise! Alicia's Mazda CX-8)
Why a Mazda CX-8?
"I'd been driving my old Barina since my university days and was getting tired of it. I found myself searching online for reviews and discussing makes and models with my husband but really liked the look of Mazdas." Comments 28-year-old primary school teacher, Alicia.
"Last Friday after work I got a huge surprise! I came home to find a car under a sheet. My husband surprised me with the CX-8. It actually took a few minutes to register – in fact, I still don't think it's totally settled in. Maybe I need to go for another drive!" Exclaims Alicia.
She adds, "with kids possibly on the horizon, the CX-8's safety and reliability are huge bonuses."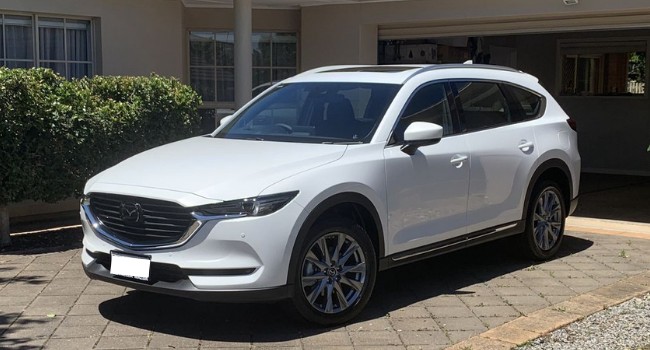 (Revealed: Alicia's Mazda CX-8)
The Purchase
Alicia told OnlineLoans that despite taking one Mazda CX-8 for a test drive the previous week, she didn't see the surprise coming.
"Although my husband made the purchase, he told me later that he'd done some research online and found that the CX-8 ticked all the boxes." She explains.
"The most important thing [for my husband] was avoiding calls and letters that might have given away the surprise. So, for him, OnlineLoans was a good choice. They didn't make any calls or send anything that I know of, except only to his email. Luckily, he was able to do it in his own time too." Notes Alicia.
Mazda CX-8
The Mazda CX-8 is a mid-size crossover SUV in Mazda's hugely popular 'CX' lineup. The CX-8 is larger than the CX-3, CX-30 and CX-5 models and slightly smaller (175mm) than the CX-9.
Engines
Petrol
2.5-litre turbo and naturally aspirated
Diesel
2.2-litre turbo
Models
2017–present 
Sport
Touring
Touring SP
GT
Asaki (top trim level)
Pros
High quality interior equal to vehicles above its price point
Excellent second row room
Smooth and quiet ride equal to some luxury vehicles
Good fuel economy IF driven gently
Cons
Servicing due every 10,000km
Some competitors have better off-road ability
Small third row, designed for kids only
About
The Mazda CX-8 is, at the time of writing, the brand's flagship SUV in Japan. The larger CX-9 is not available in Mazda's country of origin. This likely explains why Mazda delivers such a premium vehicle at the CX-8's price point in the ultra-competitive SUV market.
The CX-8 features Mazda's SkyActiv engine, the Skyactiv-G. Depending on the model, the Skyactiv-G meets ULEV (ultra-low-emission vehicle) emission standards.
Safety and Tech
Safety-wise, the Mazda CX-8 boasts a full 5-Star ANCAP rating, receiving a huge 96% in adult occupant protection.
Other features, depending on trim level, include; Lane-keep Assist, Rear Cross Traffic Alert, Smart Brake Support (Mazda's AEB), nighttime pedestrian detection and a host of others in Mazda's suite. The range-topping Asaki also comes with a 360° View Monitor which, if you're not familiar, stitches camera angles together giving a full view around the vehicle.
The GT versions, like Alicia's, feature a 10.25-inch widescreen display (8-inch for lower trim levels).
Later models include Apple CarPlay and Android Auto even in the Sport, the base model.
On the Road
Mazda's leather has always been an industry favourite – soft with a luxury-car feel. Even passengers stepping into the CX-8 from premium luxury vehicles would agree.
The ride is, understandably, passenger-focused, meaning that it's soft and smooth. Rides of similar nature can feel lurchy, especially in fast corners (zig-zagging in backstreets for example), but the CX-8 rarely gives this impression.
Fully passenger-laden and/or with heavy cargo, the engine can get a buzz sound under strain, when going uphills for example. Fortunately, it's barely noticeable unless you're ferrying around a group of mimes or church mice.
Without the driver-assist tech, the CX-8 could turn tight car parks into a gauntlet but with Mazda's tech suite, they're a cinch. However, despite this, you won't be outmaneuvering a Yaris.
Looks
Most people, car enthusiast or not, would agree the CX-8 is an attractive vehicle.
From the side, the ride height is not as high as other vehicles in its class which gives more of a 'suburban' impression rather than an off-road look. It makes sense as the CX-8 is marketed as such.
Although not small, the front grille of the CX-8 isn't overly large like many SUVs of its size are opting for (the BMW X5 for example). Fortunately, its sleek headlights tie in with the grille, mainly thanks to the pronounced bottom lines of the grille meeting the headlights – a subtle yet attractive design.
The CX-8 is based on Mazda's 'KODO Soul of Motion Design Language'. According to Mazda, this has three keywords: speed, tense, and alluring. Inspiration also comes from 'the stance of a powerful animal waiting to pounce'. Sounds great from a marketing perspective, but did Mazda pull it off in the CX-8's looks? We'll let drivers decide.
Get into a Mazda CX-8
Start the ball rolling with a quick quote. The team at OnlineLoans know there are many things to consider before getting a car loan and are here to help.
If you're researching vehicles, comparing another recent client's Ford Ranger might help.
More Mazda CX-8 information.