February 19, 2021
$760,000 – is what you'll pay for a Rolls-Royce Cullinan, the ultra-luxury SUV. Suddenly, the $130,000 or so for a new Land Rover doesn't seem so bad.
OnlineLoans previously found out why carbon fibre, headlights, servicing and, tyres, cost so much. Here, we look at why luxury cars command the prices they do.
Key Points:
Many automakers have a luxury line
New car innovations are often pioneered on luxury cars
Car reviews can make or break car sales
Luxury cars use premium leather without barbed wire scratches or tick bites
These high-end cars deliver massive power
Rarity keeps prices high
Celebrities help endorse luxury cars
Firstly, some luxury car background
Most people are aware of high-end automakers like Porsche, Rolls-Royce, Mercedes Maybach and Land Rover. These vehicles are big business. In fact, many 'everyday' manufacturers have a premium badge attached to them in order to get a slice of the luxury car pie.
For example
| | |
| --- | --- |
| Manufacturer:      | Luxury line: |
| Toyota | Lexus |
| Hyundai | Genesis Motors |
| Honda | Acura |
| Ford | Lincoln |
| Nissan | Infiniti |
| Mercedes | Maybach |
| Volkswagen | Audi, Bentley, Bugatti, Lamborghini and Porsche |
"…in the time it's taken you to read this sentence, the company has pulled in around $140,000."
From an automaker's perspective, luxury cars provide a chance to showcase their best tech, safety equipment and build quality. It's not uncommon to see new innovations launched in premium makes and models, then filter down to base models in the following years.
Car tech first appearances:
Air Conditioning
1940 Packard 180 (luxury car)
Touch Screen
1986 Buick Riviera (luxury car)
GPS-navigation system
1990 Mazda Eunos Cosmo (luxury car)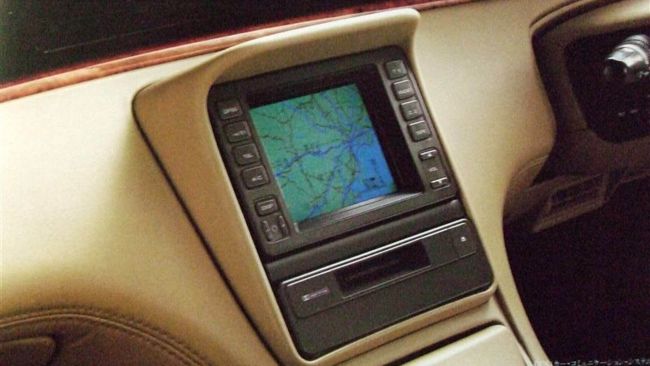 (The Mazda Cosmo GPS-navigation system. Source: ndrive.com)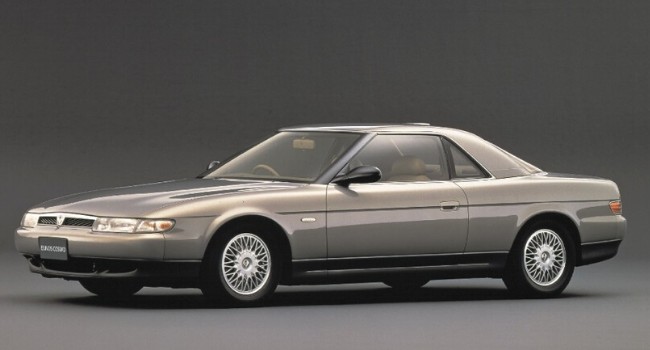 (The Mazda Cosmo featured a rare rotary engine)
Reverse Camera
1991 (Toyota) Lexus Soarer Limited (luxury car)
Adaptive Cruise Control
1999 Mercedes-Benz S-Class (luxury car)
This 'new tech' is a big selling point.
It's no surprise that cars are scrutinised and reviewed over and over with huge impacts. BBC's hit car show Top Gear was known for its 'make or break' ability.
Some high-end manufacturers reported an 800% increase in website traffic if their vehicle received a positive review from the show. The opposite could be said for bad reviews.
And it pays off – Volkswagen, with all of its luxury lines, earns $12,780 every second, so, in the time it's taken you to read this sentence, the company has pulled in around $140,000.
Did you know? On average, Porsche makes around A$36,250 profit on every vehicle they sell.
What are you actually paying for?
Other than getting new technology and features before everyone else, materials and build quality make a difference too.
"…the Bentley Mulsanne, retailing for a cool half-million dollars plus in Australia, requires 14 cowhides for its interior."
The old classic, leather upholstery, is an example of a once 'luxury' feature filtering down to cheaper model variants. You don't even need to pay for the top-of-the-range Toyota Corolla for leather seats.
Auto leather is different from clothing leather as it has to be durable enough to handle hot weather and passengers sliding across it 1000s of times. Car manufacturers prefer the hides of cows from colder climates because their skin is thicker.
(The Bentley Mulsanne. Source: astonmartinwashingtondc.com)
Luxury cars use higher quality leather from cows that don't have barbed wire scratches or tick bites that can affect the look of the finish in cars. They also use more of this premium leather. For example, the Bentley Mulsanne, retailing for a cool half-million dollars plus in Australia, requires 14 cowhides for its interior.
Did you know? Around 30% of all the world's leather goes to car interiors.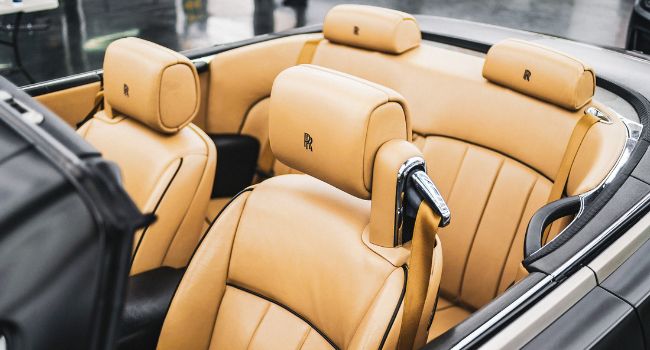 (Unblemished: Rolls-Royce premium leather)
You're paying for power
Luxury cars often have huge power. For example, BMW's midsize luxury SUV, the X5, has an 'extra luxurious' high-powered version, the X5 M Competition. It's 460kW 4.4-litre twin-turbo V8 engine punches the heavy SUV from 0–100km/h in 3.8 seconds.
"An extra $100,000 for an extra 290kW of power and 3.7 seconds faster to 100km/h."
The base model X5, the xDrive25d, comes with a 170kW 2.0-litre four-cylinder turbo-diesel which hauls the car from 0–100km/h in 7.5 seconds.
Both versions have luxury car features like adaptive LED headlights, ambient interior lighting, a head-up display, a Parking Assistant with a 360-degree camera system – the list goes on.
So, what's the price difference if you want the big luxury power?
2020 X5 xDrive25d – just under $100,000
2020 X5 M Competition – around $200,000
An extra $100,000 for an extra 290kW of power and 3.7 seconds faster to 100km/h, plus other upgrades like massive 22-inch rims on the rear.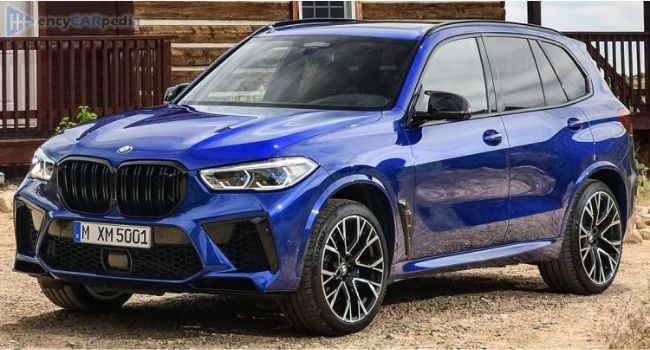 (Massive power: 2020 X5 M Competition. Source: encycarpedia.com)
You're paying for rarity
There aren't many people out there who can part ways with the prices luxury cars command. Automakers know this.
High-end luxury cars have low production numbers. This largely due to the time it takes to build them but also because low production numbers mean rarity and rarity are expensive.
The Toyota Corolla takes around 17 hours to build and since its introduction in 1966, Toyota has made over 47.5 million of them. That equals nearly 100 Corollas made every hour. Luxury cars don't share the same figures.
Compare that to the Mercedes-Benz S-Class; since 1965 a mere 4 million produced.
Other Luxury Car Production Numbers:
Porsche Macan: 2014 – present / 350,000 units
Land Rover Range Rover: 1970 – present / 1,000,000 units
BMW X5: 1999 – present / 1,000,000 units
Rolls-Royce Phantom VII: 2003 – 2017 / 10,327 units
In fact, for the price of one Rolls-Royce Cullinan, you could get over 20 brand new top-or-the-range 2021 Toyota Corollas. Or one Corolla and a nice house.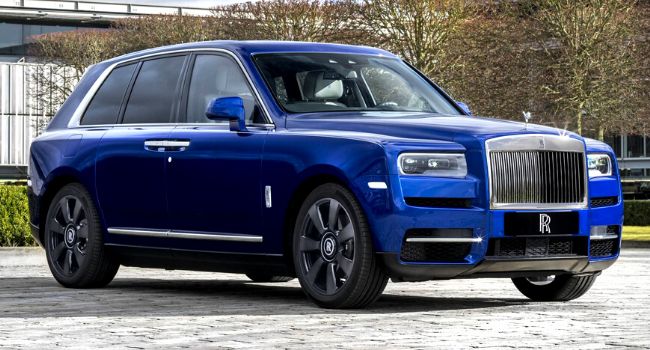 (Mega Dollars: The Rolls-Royce Cullinan. Source: guideautoweb.com)
You're paying for prestige
When celebrities arrive at red carpet events in high-end luxury cars, consumers pay attention. The '90s era stretch limos are fading from the scene and other options have filled the void.
Here are a few luxury cars and their famous drivers:
| | |
| --- | --- |
| Famous Owner | Luxury Car |
| Pierce Brosnan | BMW i8 |
| Justin Bieber | Rolls-Royce Wraith |
| Lady Gaga | Lamborghini Huracan EVO |
| Nicolas Cage | Ferrari Enzo |
| Kanye West | Lamborghini Aventador |
| Simon Cowell | Bugatti Veyron |
| Floyd Mayweather | Koenigsegg CCXR |

(Not subtle, not cheap: Justin Bieber's custom Rolls-Royce Wraith. Source: driving.ca)
You don't have to be a celebrity to get your next car
OnlineLoans offers car loans for all kinds of people and for all vehicle types. Start with a quick quote to get the ball rolling.
The process is easy and with our huge number of lender options, OnlineLoans has a solution for almost all cars and all buyers.
More information on luxury cars.