April 27, 2021
We take a look at recent OnlineLoans' client, Anthony's Tesla Model 3 and the story behind it.
In brief:
Client: Anthony, Canberra, ACT
Loan type: Secured Car Loan
Purchased: April 2021
Trade In: 2014 BMW 4 Series
Canberra resident, Anthony, purchased his 2020 Tesla Model 3 in April 2021. Anthony was previously commuting to work in a BMW 4 Series. However, as Anthony explained, working in environmental research pushed him to a greener vehicle. Anthony financed his Tesla Model 3 through OnlineLoans with a rate of around 6.8%.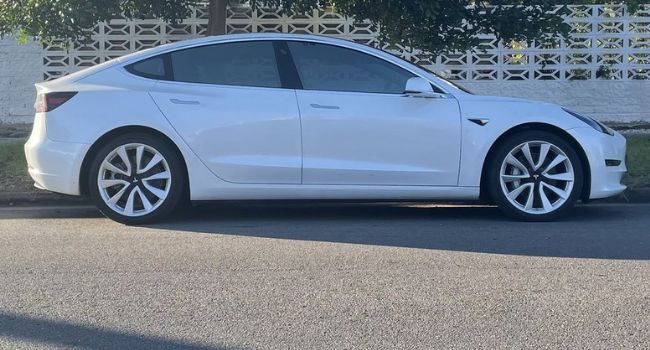 ('Greener' pastures: Anthony's Tesla Model 3)
Why a Model 3?
39-year-old Anthony explains, "I'm a car guy. I've always liked cars, especially performance cars. My last [car] was a BMW 4 Series which was quite powerful. Before the 4 Series, I had a Nissan S15 200sx – I loved it, but it was outdated."
He continues, "I work in reducing emissions – well, [I do] research on the carbon footprints of construction projects. Driving a car that's heavy on emissions was not a good look. The Tesla really combines it all; excellent performance and technology and above all, no emissions."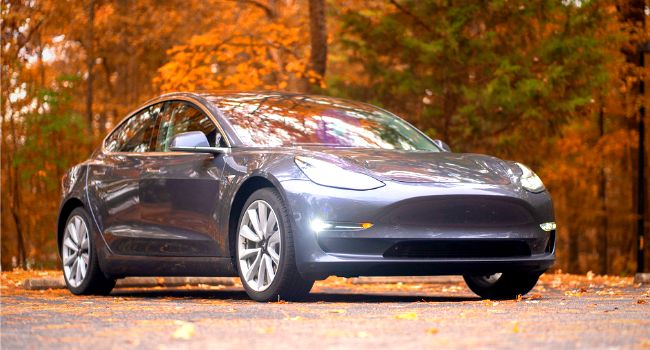 (Performance + technology – emissions = a happy driver. Not client's vehicle.)
The Purchase
Anthony told OnlineLoans that buying a Tesla was a long thought process.
"I had concerns about servicing and replacing parts, especially if I take it out of the city area. I was worried about mechanics not knowing how to work on an EV. Luckily the Model 3 needs minimal servicing other than tyres. It's just filters and brakes every two years and the A/C only every six years in the Model 3 – they're so easy to maintain!" says Anthony, who's clearly done his research.
He continues, "Actually, I found you [OnlineLoans] through reading one of your articles about EVs."
"The Model 3 wasn't too expensive, well compared to the Model X. I plan to get a lot of use out of this car too. It's got a lot of games and hidden or unlisted features that I like finding and trying out – you can play the games with the pedals and steering wheel," he adds with a laugh.
"So, OnlineLoans worked for me because of my job at [redacted government department]. I have to keep my phone in a locker, the signals interfere with some of the equipment and also it's part of the security. I'm not able to answer my phone when I'm working so being able to save and continue and upload all of the documents after hours was why I chose OnlineLoans."
Some details have been changed/omitted at the client's request.
Tesla Model 3
Tesla has become a legend in the car world. The quirky EV company led by visionary Elon Musk is doing things right. Tesla is the world's most valuable car manufacturer – by a long shot.
The Model 3, selling from 2017 to present, is the world's best-selling electric car ever. Upon pre-sales release in March 2016, Tesla received 232,000 reservations in two days.
Is that a lot? The previous record for advance deposits had stood for 61 years. Back in 1955,  the Citroën DS scored 80,000 deposits in ten days.
Engine
One or Two electric motors depending on the variant
Model 3 Distance Range
508 to 657 km depending on the variant
Model 3 Trim Levels
Standard Range Plus (508 km range, RWD)

Long Range (657 km range, AWD)

Performance (628 km range, AWD, 0-100km/h in 3.3s)
Pros:
It's a Tesla!

Improved range and charging times

Industry-topping infotainment system (along with Mercedes MBUX)

Supercar-beating performance with no (minimal) noise

No emissions
Cons:
Heavy price tag

Build and paint quality issues reported on some units

Heavy dependence on the touchscreen

No gauge cluster might not be to everyone's taste
About
"Elon Musk wanted to call the Model 3 the 'Model E' but Ford beat Tesla to the post by filing for the trademark first."
The Model 3 joins the Tesla lineup along with the company's three other passenger vehicles. Yes, the model names are intentional;
Model S – 5-door liftback sedan, 2012 – present
Model 3 – 4-door sedan, 2017 – present
Model X – mid-size crossover SUV, 2015 – present
Model Y – 5-door SUV, 2020 – present
"S3XY"
Elon Musk wanted to call the Model 3 the 'Model E' but Ford beat Tesla to the post by filing for the trademark first.
Tesla vehicles are often referred to as the 'iPhone of cars' and it's a worthy label. For drivers not familiar with such a heavy reliance on tech, jumping in a Model 3 for the first time may be a little daunting. No familiar gauge cluster, minimal engine noise and lightning-fast acceleration all controlled by a central touchscreen can take some getting used to.
Fortunately, Tesla engineers are well aware of this. The screen is easy to use and navigate through and once used to the driving experience, most newbies are instantly converted into a Tesla fan.
Fun and Games
As Anthony mentioned above, the infotainment system has some cool easter eggs no matter how serious of a driver you are. Games, playable when the vehicle is stopped, consist of arcade classics and are playable with the steering wheel and foot pedals, almost turning the Model 3 into a giant arcade machine.
Don't like games? There's also pre-installed Netflix.
Most owners describe their experience with the Model 3 as exciting and quirky while being convenient and practical to live with.
Sentry Mode is another favorite. The vehicle's eight cameras monitor its surroundings while parked. If a potential threat is detected, a warning message is displayed on the central screen. Higher level threats trigger the alarm. Owners can receive an alert via the Tesla app in addition to recorded footage from the cameras.
Safety and Tech
As Elon Musk noted in 2019: "We don't do model years. We just roll in improvements as they come."
The Model 3 scores a full 5-star rating. 96% for adult occupant protection, 8/8 for frontal offset, 8/8 for side impacts and 94% for its safety assist features. 
Speaking of driver assistance technology, the big one first; Autopilot. Tesla's Autopilot is a suite of features that include self-parking, traffic-aware cruise control and lane centering. Although Autopilot is not capable of fully self-driving yet, Tesla claims that in the future, it'll likely be.
Nevertheless, the system offers 360-degree cameras, speed assist, collision detection and avoidance, traffic light and stop sign control and Smart Summon.
Smart Summon can 'summon' your Model 3 by maneuvering the vehicle out of a parking space ready for entry.
Note that Tesla doesn't offer Apple CarPlay / Android Auto.
Charging
Using a Tesla Supercharger, the Model 3 can reach 80% in less than an hour. However, using Tesla's Mobile Connector, which comes standard, times increase significantly. 
| | | |
| --- | --- | --- |
| Output (kW) | Phase / Amps | Hours to Charge |
| 2.3 | Single / 10A | 15hrs |
| 3.7 | Single / 16A | 25hrs |
| 7.4 | Single / 32A | 50hrs |
| 11 | 3 Phase / 16A | 75hrs |
| 16.5 | 3 Phase / 24A | 75hrs |
On the Road
"If you're after performance, the Performance won't disappoint."
Fun, and still turning heads at the traffic lights. Is one way to describe driving a Model 3. Teslas are well known for their extreme acceleration, general performance and the handling to back it up. The AWD versions offer a noticeable driving experience different from the base model RWD version but all Model 3 trim levels are a pleasure to drive. 
In base-model form, the Model 3 still comes with 12-way power adjustable heated front seats and 18-inch wheels and despite 'not being premium' and the sound system still produces great quality audio. Probably an easy feat when there's no engine noise.
All trim levels receive a tinted glass roof and the massive (although other brands are catching up) 15-inch screen. 
Cargo space in an EV includes the engine-less front compartment and with that in mind and the boot, the Model 3 has an impressive 542 litres. 
If you're after the performance, the performance won't disappoint. Well, the price tag of around $100,000 might, but here are some astonishing stats;
Tesla Model 3 Performance
Top speed: 261km/h

0-100km/h in 3.3 seconds
Looks
The Tesla Model 3 is considered a 'fastback' which means a single slope from the roof to the rear end or tail. Tesla has pulled this off well with the Model 3's smooth and simple design.
Many note the Porsche-like front end, especially the headlights from certain angles. Whether you agree or not, the looks are stylish and appealing to most.
Lacking a front grille and instead of having a smooth nose really highlights the 'EV look' and, even if you're not a car enthusiast, signifies the Model 3 is something special.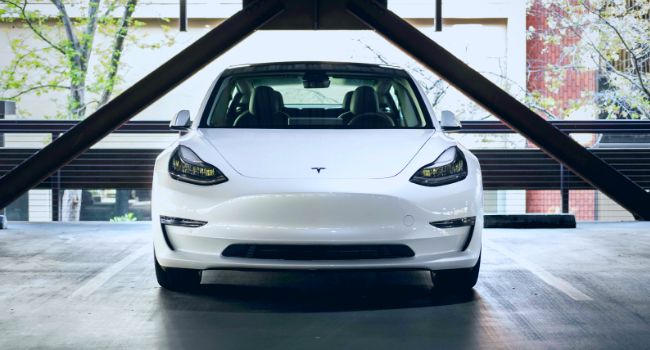 (Grille-less: Tesla cars)
The rear does the same. The boot lip spoiler, wide rear track and centred Tesla 'T' logo make sure the car gets noticed. At night, this is highlighted by the unique, but not too showy, taillight signature.
Model 3 design chief, Franz von Holzhausen, said that it is "an Audi A4, BMW 3 Series, Mercedes-Benz C-Class type of vehicle". With this heavy European influence, you'd expect a more angry or aggressive front headlight design like many BMWs for example. However, the Model 3 portrays a sleek, futuristic design.
The futuristic looks are more evident with the massive glass roof which extended from the top of the windscreen to the rear spoiler. The door handles also sit flush with the body, further adding to the sleek, futuristic appeal.
Get into a Tesla Model 3
OnlineLoans offers a fast and frictionless process. As pointed out by recent client, Anthony, you can start, stop, pause and continue at your own pace.
Start with a quick quote to get the ball rolling.
If you're researching vehicles, comparing another recent client's Land Rover Range Rover Velar or Mazda CX-8 GT might help. 
Find more on Tesla Model 3
Other Q&A that might be useful