November 20, 2020
"So… how much could you give me?" is not something you want to be asking sellers when they pick apart cars for sale.
Here's how to maximise dollars and buyer interest in cars for sale:
Takeaways:
Faded headlights look disgusting and reduce the value of cars, but they're easy to fix

The cleaner your car's paint, the lesser buyers will have to complain about

Dirty engine bays signal a neglected car

Interior and tyre condition may not be evident in photos but are on test drives

Craft your online ad strategically
Headlights
These, along with paint, are one of the first things buyers notice when looking at cars for sale. Headlights are expensive to replace – but 'faded' doesn't mean they need replacing.
A yellowish discoloration on headlights is UV damage from the sun. Often, it can be easily repaired. Home remedies such as toothpaste and baking soda or metal polish are said to restore them.
A more proven method is a headlight restoration kit. These can remove UV fade and protect against recurring headlight fade.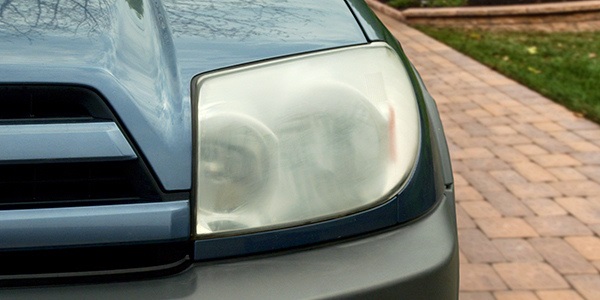 (Faded Headlights. Source: rustoleum.com)
Average Cost: $40
Preparing Cars For Sale Tally: $40
Paint
Along with headlights, cars for sale always get scrutinised on their paint. At the very least, give your car a wash before taking photos and having (potential) buyers inspect your vehicle.
If you've taken care of the paint and kept the value of your car high, a simple wash and dry with microfibre cloths should be enough. Detailing kits containing liquid car-wash liquid and cloths are available.
Average Cost: $30
Preparing Cars For Sale Tally: $70
Most family cars have done a few road trips in their time. It's not uncommon to have nicks and chips in your paint. Touch up paint can solve the problem. Just make sure to match the colour correctly.
Paint codes represent the exact colour of cars. Your car may look white, but according to the manufacturer's marketing team, it's 'arctic ice, 'smoke white', or 'ghost'. Your paint code is usually in the driver's door jamb or owner's manual.
Average Cost: $13
Preparing Cars For Sale Tally: $83
Engine Bay
Almost all buyers want to check the engine. Cars for sale should ideally have a clean engine bay with no leaks or stains.
High pressure water and steam cleaning is an option but it's best left to the professionals. Wiring and electrics can get damaged.
Use (slightly) damp cloths and degreaser to remove grime and dirt. Make sure to follow the directions when using a degreaser. It may take several wipes to get it looking nice.
Average Cost: $10
Preparing Cars For Sale Tally: $93
Interior
More noticeable on test drives, the interior of cars for sale should be as 'showroom' as possible.
Vacuum the carpets, including the floor mats, seats and rear parcel shelf. Some cars have some pretty unique and innovative features to show off so give your car the chance to do so.
Products like ArmorAll work wonders on dashboards and other rubber, vinyl and plastic surfaces.
Average Cost: $10
Preparing Cars For Sale Tally: $103
Tyres
Like the interior, most people looking at cars for sale check out the tyres. Give your tyres a clean and a once-over with the ArmorAll leftover from the step above.
When trying to get the best deals on cars, buyers won't want to pay for new tyres within weeks of purchasing a car. If your tyres' tread is too worn, it might be worth replacing them before selling the car.
We won't add tyre costs onto the tally as you might not need them and they come in a huge range of prices per size and brand.
Average Cost: $0
Preparing Cars For Sale: TOTAL: $103
Photos & Description
By now, your car for sale should be looking its best. Now, it's time to advertise.
Photos should
The total maximum amount allowed where you advertise it

Be in daylight, ideally on a sunny day

Include the whole car from as many angles as you can

Include interior and engine bay photos

Include the owner's manual and service logbook

Avoid any tyre marks, other damaged cars or anything unsightly in the background
Your description should
Appeal to the type of person the vehicle is designed for. For example, cars for professionals – quality interior and technology. Small hatchbacks – good fuel economy and parking assist features.

Avoid mentioning things that all cars for sale have such as; floor mats, A/C, power windows and adjustable driver's seat.
Buying a New Car
Now for the fun part. After getting a good deal when selling a car with the points above, it's time to apply for a car loan and get the best deal for your new car.
Get a quick quote from OnlineLoans to know your borrowing potential and to select options that match your circumstances.
More information on cars for sale.