October 28, 2020
Cars for those employed and in their 20s and 30s, Australia's young professionals make up a large portion of new-car buyers. Automakers know this.
Couple that with Australia's thirst for SUVs: 45% of all new cars sold in Australia in 2019 were SUV variants – the vast majority.
The result; an SUV-dominated lineup. We take a fresh look at some of the best cars for young professionals:
Under $30k
Hyundai Veloster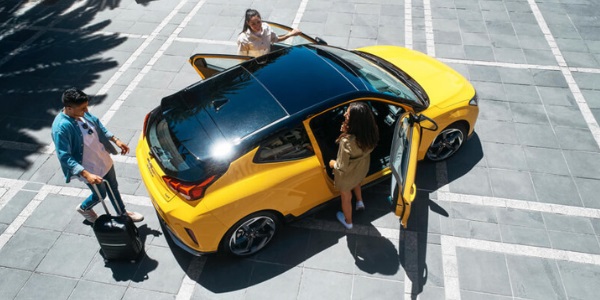 (Source: hyundai.com/au)
Prices Around: $29,490 (optioning up quickly creeps over $30,000)
Fuel Consumption: 7.1 l/100km combined
Who's it for?
Suburban and urban couples with an average commute and no large cargo to carry.
Where's it suited?
City commutes and tight parking, grocery runs and not-too-far excursions.
About
We'll start with the quirky standout: The Veloster has three doors. You may be thinking one rear hatch and two passenger doors but no (that would make it 4). The Veloster has three passenger doors – one on the driver's side and two on the passenger side. So, from the kerb, it's a sedan and from the road, it's a coupe.
The advantage here is safety as it encourages passengers to enter and exit from the non-traffic side.
Despite its price point, there is a minimal 'cheap' feel to the interior buttons and seats. There are no more or less hard, cheap plastic surfaces than you'd expect so the Veloster's interior doesn't lose any points for comfort – again with the price taken into account. Although not a hot-hatch, it is a 'warm' hatch.
Unique Notes
Three passenger doors.
Hidden rear door handle (giving a more symmetrical look despite having 3 doors).
Party Tricks
The excellent infotainment system, including Apple CarPlay and Android Auto. Some trim levels have heated and vented seats, forward collision avoidance and active cruise control.
Let Downs
Optioning up dramatically increases the price.
Limited power in the base model.
Adult rear passengers will not like the one rear door.
Under $40k
Toyota RAV4 GX AWD Hybrid

(Source: sydneycitytoyota.dealer.toyota.com.au)
Prices Around: $38,790
Fuel Consumption: 4.8 l/100km combined
Who's it for?
Small or expecting-to-grow families with average work commutes, school runs and weekend Bunnings trips.
Where's it suited?
Suburban and urban Australia with highway and rural driving in mind. The AWD boosts roamability.
About
Five generations deep, the RAV4 has proven its popularity. Launched in 1994, the original was a classic child of the 90s with two-tone colour schemes and soft, rounded edges. The 2020 model is much more aggressively styled and has grown in size. For example, the 2020 model has 580L of cargo space, the original RAV4 started at 176L.
The 2020 RAV4 interior is a quiet and pleasant place to be: minimal road noise, comfortable seats (front and rear) and a high driving position with excellent vision. The landscape infotainment system is iPad-esque and now much more responsive than previous models.
The car industry is finally catching up with smartphones and moving away from the old, laggy touch screens of several years ago.
Unique Notes
None of your passengers will ask how to operate the features. This may not be totally unique, but the RAV4 is designed with 'everything where it should be' in mind. No-fuss, no confusion. For example, there's no messing around with screen menus just to change the A/C settings.
Party Tricks
Apple CarPlay and Android Auto, Blind Spot Monitor, Hill-Start Assist and Rear Cross Traffic Alert, front and rear parking sensors with rain sensing wipers – great for this price point.
In top-trim spec, the RAV4 has a 360-degree view monitor too.
Let Downs
Not enough USB ports.
Noticeable cheap plastics carried over from the base model.
Unexciting rear seats and cargo area with a lot of hard plastics (which may be good for awkward cargo, pets and kids).
Under $50k
2020 Skoda Superb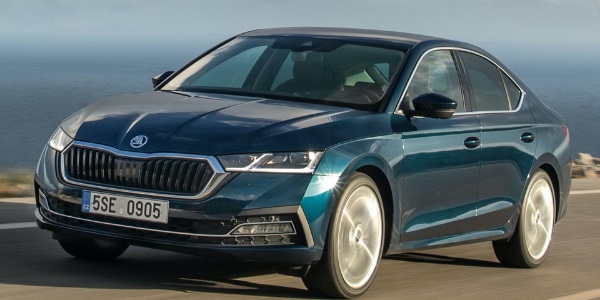 (Source: carscoops.com)
Prices Around: $43,990 (sedan) / $45,690 (wagon). (Optioned up, prices exceed $50,000)
Fuel Consumption: 7.1 l/100km combined
Who's it for?
Non-SUV-driving families and couples with long commutes who don't plan to carry overly awkward cargo. The large passenger area is fit for ferrying work colleagues.
Where's it suited?
Suburban Australia with long main roads and highways in mind.
About
Imagine a business meeting in a new and sophisticated European airport lounge. That's the feel of the Skoda Superb. Here's why: It's clean and smooth looking with a well-built, quality interior – likely courtesy of Skoda being part of the VW Group. Bear in mind, that group includes Audi, Bentley, Bugatti, Lamborghini and Porsche.
The 'high-quality-but-not-luxury' interior and driving feel tick the 'professional' box in young professionals.
You may get the odd raised eyebrow when you announce the brand in the office car park but Skoda is a serious player in European markets and fast making a solid name for itself in Australia. The Superb is packed with active safety systems and complies with strict European emissions laws – much stricter than Australia's.
Unique Notes
Removable umbrella in the door.
It's a Skoda (the brand sold 7001 units in 2019, compared to Toyota's 205,766 in 2019).
Party Tricks
LED Matrix adaptive headlights – these 'filter out' other illuminated cars and signs at night to prevent glare. Apple CarPlay and Android Auto.
High quality audio system created by German brand Canton.
Let Downs
Front grille styling is not to everyone's taste.
FWD versions report fast tyre wear.
Runs on premium (95RON).
Wildcard
Tesla Model 3

(Source: autoexpress.co.uk)
Prices From Around: $73,900
Range: 657 km on a full charge
Who's it for?
Couples and small families with no large, awkward cargo. Anyone who shudders at petrol prices.
Where's it suited?
Suburban and urban Australia with charging in mind driven long distances.
About
EVs make great cars for young professionals. Tesla has a reputation for being the 'iPhone' of the auto industry. The in-car tech doesn't disappoint and is packed to the roof with features and Easter eggs. How about playing video games using the steering wheel and foot pedals via the (massive) screen? If you're not into games, Netflix and YouTube are available too. Not into videos, how about Car-aoke – Tesla's karaoke for you and your passengers.
On a more serious note, the 'autopilot' and the adaptive cruise control can take care of lane guidance, speed, braking and steering. It still requires the driver to keep hands on the steering wheel at all times but it's close to self-driving.
Teslas have an extremely good ability to hold their value in Australia, making the pricey investment a little easier to fathom.
Unique Notes
Highly controllable by the app. For example, you can vent the car on a hot day via the app and remotely turn on the A/C.
Minimalist dashboard. The Model 3's dash is, in appearance, bare-bones. The (massive) centre screen displays all. Additionally, the steering wheel is not clogged with buttons.
Supercar-challenging acceleration.
Party Tricks
Smart Summon: This can actually drive the car to you. If you're parked at the far end of a car park, you can 'summon' the vehicle to pull out and drive over to you.
Sentry Mode. This monitors and records views from around the vehicle via cameras. It means you can see if someone touched or got too close to your Model 3 when it's parked and you're elsewhere.
Let Downs
The high prices.
Australia's lack of government EV incentives (some counties have EV incentives equating to as much as $20,000 AUD).
Loud warning noises when closing the boot.
Cars for young professionals overview
Aussie young professionals have ample choice in the car world. Knowing your budget or the maximum amount you can get from a car loan is often the first step in choosing the right car. Make sure to match the car to your lifestyle. Creating a list will help you chopped out the wrong choices. Check out these stats to help you make a decision:
The average vehicle in Australia consumes 1,750 litres of fuel per year.

Australian vehicle owners spend around $3,500 on fuel each year.

On average, Australians spend 13.8% of their income on transport.

Australians spend on average just under an hour in their cars each workday.