February 9, 2021
We take a look at recent OnlineLoan's client, Adam's Ford Ranger and the story behind it.
In brief:
Client: Adam, Toowoomba, QLD
Loan type: Secured Car Loan
Purchased: Feb 2021
Trade In: none
Toowoomba (QLD) resident Adam purchased his 2020 Ford Ranger Wildtrak in February 2021. Adam previously relied on a company vehicle, a Toyota Hiace van, for work but went for something that he can go camping with on weekends. Financing the Ranger through OnlineLoans, Adam's rate is just over 5%.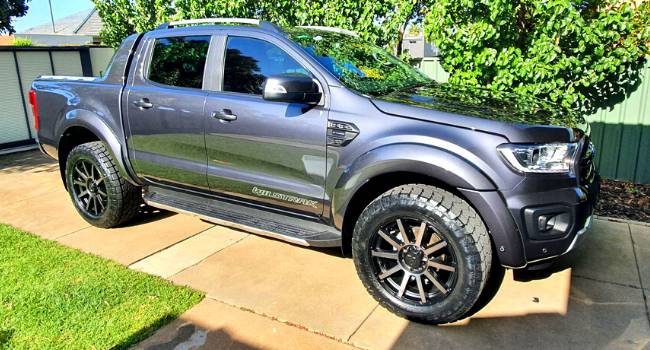 (In a new home: Adam's Ford Ranger Wildtrak)
Why a Ford Ranger?
The 34-year-old electrician tells us, "I have a lot of mates into camping and fishing and I always had to jump in their cars – not anymore."
"The Ranger's pretty powerful, I've already taken it on some dirt tracks and it loves them. I needed the tray for work gear, I carry a lot of cable reels and tools. I always see Rangers on job sites, finally one's mine", Continues Adam.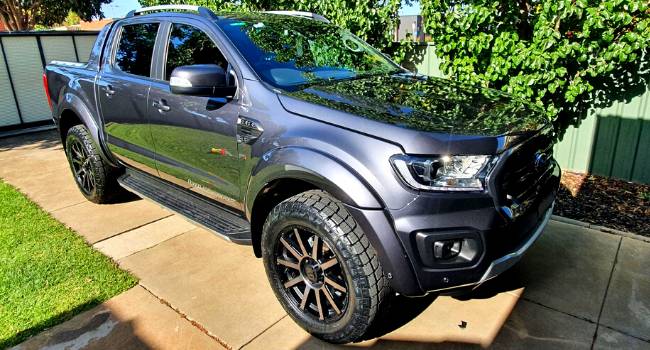 The Purchase
Adam told OnlineLoans that despite the Toyota HiLux and Ford Ranger rivalry, he wasn't fussed between the two.
"I did a fair bit of research online and talking to mates. For me, it was all about timing and availability. The Ranger does exactly what I want so I jumped at one when I saw it for sale. I'm gonna give it a wash every weekend [because] it's gonna get used a lot." Explains Adam.
He adds, "The OnlineLoans process didn't cause me any problems, the steps were easy. I don't spend much time on computers, so just did it on my phone."
Adam took the Ford Ranger [pictured] for a test drive and took it home the same day.
***Some details have been changed/omitted at the client's request.
The Ford Ranger
The Ford Ranger is one of Ford's best-selling vehicles. The numbers show in Australia, the model was the country's second-best-selling vehicle in February 2021. The same can be said for all of 2020.
Engines
Diesel:
2.0-litre turbo
2.0-litre twin-turbo (Adam's Wildtrak)
2.2-litre turbo
3.2-litre turbo (5 cylinders)
These vehicles are commonly automatic, but there are manual variants. T6 Rangers in Australia are primarily diesel.
Models
2011–present (T6)
XL (base model)
XLS
XLT
Ranger Sport
Ranger FX4
Ranger Wildtrak
Raptor (top of the range)
Pros:
Excellent off-road ability
The large model range makes it affordable to many
The smooth and manageable performance
Excellent reliability
Cons:
Some models lack 2nd-row amenities
The top trim (Raptor) version is very expensive
With only a driver (no cargo or passengers), can feel bouncy on some terrain
About
The current Ford Ranger model, the T6, was designed and engineered by Ford of Australia in Melbourne, so despite its American brand, the local aspect is nice.
The T6 has been in production since 2011, a long time in the car world. The previous model was a long timer too, built from 1998 to 2012. Interestingly, the Mazda BT-50 is a derivative of the T6 Ford Ranger. The two are built on the same platform and, for the Australian market, both assembled in Thailand.
The Ford Ranger has proven immensely popular in Australia and other countries.
Safety
Safety-wise, the Ford Ranger boasts a full 5-Star ANCAP rating and a full 16/16 for side-impact safety.
Depending on the trim level, Rangers feature adaptive cruise control (ACC) and auto-emergency braking (AEB). Pedestrian detection and Ford's Lane Keeping Aid and lane departure warning add to the driver assist suite.
Newer models also feature a forward-facing camera that automatically detects the current speed limit thanks to Ford's Traffic Sign Recognition technology. Furthermore, Ford's FordPass Connect allows smartphone-app commands like start, stop and lock/unlock.
On the Road
The beefy Ranger is suited to wide roads, highways and, of course, getting off-road. At 5446mm in length (over a metre longer than a Corolla), the Ford Ranger is no grocery-getter. Some drivers not used to large vehicles might struggle in tight spaces.
That aside, thanks to Ford's electric power steering, the Ranger is simple to handle after a bit of getting used to. Hopefully, drivers don't get into any fights with buildings if new to a ute of the Ranger's size as the building will come off second best. A reverse camera, parking sensors and park assist also help.
The Wildtrak's (like Adam's above) power comes from a 2.0-litre four-cylinder bi-turbo diesel engine which easily matches vehicles with larger engines at the same price point.
Ford knows its customers. There's ample room inside for water bottles and lunch boxes. The commonly-accessed controls, like A/C and radio, are simple to reach too. With Apple CarPlay and Android Auto, the Ranger also keeps passengers happy.
The rear tray is 1549mm long, 1560mm wide and 511mm deep so it'll swallow kids' bikes, camping gear and a kitchen sink (literally) should you need it.
Looks
If you're familiar with Ford's 'Built Ford Tough' advertising campaign, you'll agree the Ranger might as well have this tattooed on. The big front grille and sleek headlights add to the 'tough and ready' appearance.
From the side, the Ranger gives a more 'passenger-focused' impression with its large dual cab, but as mentioned above, the tray is not small. As with many off-road capable vehicles, the Ranger has a short front overhang past the front wheels to allow for more rocky terrain ability. Fitting a popular bullbar on the front can depending on the type, reduce this by extending the overhang.
Get into a Ford Ranger
Get a quick quote and start the ball rolling. The team at OnlineLoans know there are many things to consider before getting a car loan and are here to help.
If checking out vehicles, another recent client's Land Rover Discovery Sport might help.
More information about the Ford Ranger.
Other Q&A that might be useful