July 28, 2021
A car dealership isn't a new phenomenon, but this concept is. You swap money for cars, how sophisticated can it be?
Very.
OnlineLoans takes a look at the ever-changing process of buying cars.
Get the gist in 30 seconds
Car brands are slowly shifting from a 'place of transaction' to 'a place of experience'. This means consumers are becoming clients, rather than customers.

According to a KPMG Global Automotive Executive Survey, the global auto industry is entering a phase of restructuring.

Pushy salespeople and the focus of selling as many cars as possible is being replaced by a personalised experience for customers – at least for OEM retailers.
We're in an evolution stage
"You can't get a porterhouse steak and cheese platter while enjoying a live music performance at the average car dealership, but you can at Mercedes Me."
It's easy to find both traditional and 'modernised' car dealerships in Australia. We're talking about OEM (Original Equipment Manufacturer) dealerships.
An example of a modernised dealership is the Mercedes Me store in Melbourne.
Although temporarily closed at the time of writing, the venue hardly resembles a car dealership at all. With its cafe and restaurant on site, complete with waiting staff and head chef, function centre, library and art exhibitions, Mercedes Me doesn't feel like a typical dealership.
You can't get a porterhouse steak and cheese platter while enjoying a live music performance at the average car dealership, but you can at Mercedes Me.
Mercedes describes the store as 'an unforgettable Mercedes-Benz experience in a relaxed environment'.
Visitors are reminded of the brand throughout the venue. For example the 'AMG Avocado' on the food menu and some special Mercedes vehicles on display.
Not present, are pushy salespeople.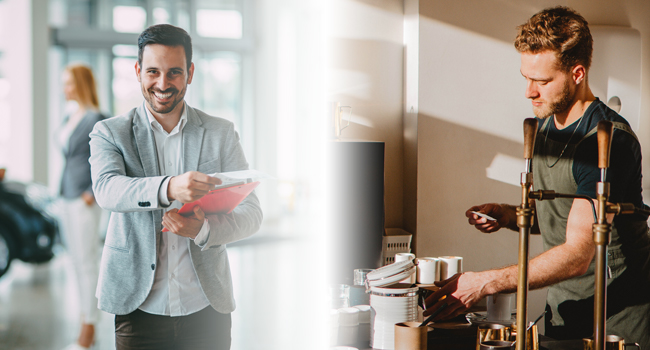 (Car dealers are making some significant changes)
Other brands are making the shift too.
Tesla and Porsche, among other brands, are known for their gentle sales approach and focus on personalising an experience.
Depending on the location, showrooms act more like demonstration centres. Visitors (rather than 'customers') are offered no-obligation test drives and feature demonstrations, many of which can be completed with VR headsets.
When visitors turn into customers, they do so online in their own time. No haggling and negotiating prices and no commission-driven salespeople as they are paid as product specialists on a salary. 
Not all OEM dealers offer this experience in Australia, but there are many moving towards the practice. 
Why?
"They'll pick your car up from a designated location and drop it back to your home, workplace or even your local cafe."
It might seem like the hard-sell approach to get as many cars out the doors as possible would be good for business but it's not what consumers want.
Tesla has, on many occasions, sold vehicles purely online. That means buyers have inspected, researched and purchased cars without even seeing them in the flesh. No test drives, no kicking tyres, no sitting in the driver's seat – until the day of delivery.
Furthermore, numerous international surveys have found that three quarters of new-car buyers would be happy to make the entire purchase online. 
Results also show that consumers prefer servicing and maintenance inline with the new concepts too. 
This means organising servicing online, presumably a mobile app, which is scheduled as per a vehicle's connectivity.
For example, the car itself will send alerts to service centres to let them know what kind of service is required, parts needed and due date. Vehicles could even pre-send engine diagnostics so mechanics are aware of what's coming in.
Some brands are even offering (or planning to offer) a pickup service.
They'll pick your car up from a designated location and drop it back to your home, workplace or even a café.
Here's a rough comparison between traditional car dealers and those adopting the new concept.
Traditional
New Concept
The purchase

A prospective customer visits a car dealership in person and is approached by salespeople.

The hard-sell approach is applied and the customer is shown different vehicle choices.

Salespeople are eager to move cars as they're paid on commission.

After haggling prices, the purchase is made in the dealership.

The purchase

The prospective customer 'experiences' a brand in a no-obligation, unpressured environment – similar to Mercedes Me.

Customers research vehicles online, in their own time, through HD videos or VR tours offered by brands. Product specialists are available for customer questions.

The purchase is made online, prices are fixed, which eliminates the need for commissions-based salespeople.

Servicing

As per the logbook and paperwork issued with the car, customers book their service at an approved centre.

Sometimes, they're reminded by calls from the dealership.

Servicing

With its own connectivity (SIM / WiFi), the car alerts owners and selected service centres of upcoming maintenance.

The owner selects pickup / return options tailored to their needs.
At the end of the day
OEM car dealerships are changing or finding themselves having to change in the not-too-distant future.
The concept will likely take on a form similar to Apple or Samsung users where the majority stay loyal to their chosen brand. They'll repurchase newer models as they've 'subscribed' and signed up for services and offers.
The good news for consumers is that buying a new car will (hopefully) be an enjoyable, fun experience rather than a pressured situation.
Fortunately, you can already access the finance side of purchasing cars now.
OnlineLoans offers no-obligation, hassle-free finance on new, used, dealer and private-sale vehicles. Hence our name, it's all online.